CNME Editor Mark Forker spoke to Thierry Sabbagh, Managing Director, Nissan Middle East, to find out how the global car behemoth is leveraging disruptive technologies to enhance its product offering, his view on declining ownership, electrification, and how its ability to continuously innovate has maintained the company's status as a pioneer in the industry.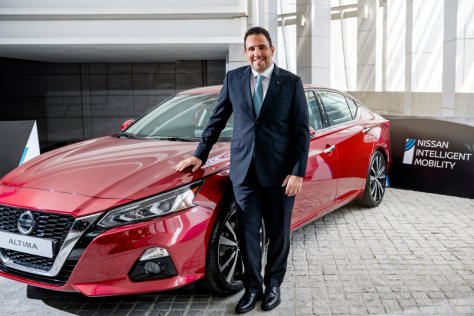 How is Nissan leveraging disruptive technologies to provide enhanced driving experiences for their customers – and what are the unique capabilities of its highly-acclaimed Pro-PILOT technology.
Advancements in technology have revolutionised the way we build, sell, and drive cars across the globe. At Nissan, we offer our customers an enjoyable driving experience behind the wheel not only by building high-quality products that are exciting to drive, but also by offering the latest safety, comfort, and entertainment technologies.
Enhancing the brand's offering of driver assistance and convenience features, Nissan Intelligent Mobility (NIM) caters to the growing needs of our buyers. Combining the three pillars of Intelligent Driving, Intelligent Power, and Intelligent Integration, NIM's suite of technologies increase safety, comfort, and control while driving, helping drivers connect with their vehicles and those around them.
ProPILOT, which is the newest addition to the NIM suite in the region and debuted on the 2021 Nissan Altima, revolutionised driving experiences by combining Nissan's Intelligent Cruise Control system with Steering Assist technologies for a glimpse into the abilities of autonomous driving.
You have increased your market growth here in the Middle East, which is a market known for its love of SUVs, what is it about your SUV and Sedan portfolio that differentiates you from your competition?
Over the years, Nissan has weaved its way into the social fabric across the Middle East and become a brand that customers know and trust since its market entry to the region in 1957.
Thanks to deep-rooted heritage of Nissan in the region, we were able this year and despite the impact of COVID-19, to increase our market share by 10% in the Gulf in the Fiscal Year 2020 (April 2020 – March 2021). Our products have built a reputation for offering utmost levels of comfort, technology, and reliability, even in the toughest of conditions.
Keeping customers at the centre of everything we do, has been integral in ensuring we cater to their needs effectively.
During FY20, the legendary Patrol recorded a staggering 15.4% increase in market share, while the popular KICKS continued to build on its success in the SUV-B segment with an 11% year-on-year growth.
Our sedan line-up witnessed an equally impressive uptake with the Maxima and Altima increasing their annual market share in the region by 33% and 8% within the Sedan-E and Sedan-D segments respectively.
The large and varied line-up that we have to offer across the region further differentiates us from our rivals. We have offerings catered to budget-conscious buyers, luxury buyers, adventure seekers, and enthusiasts, ensuring we cater to a wide and diverse audience.
The range of innovative tech options available for each product are also in line with consumer demands, targeting different audience segments to enrich their mobility experience.
What impact has COVID-19 had on the automotive industry – and what new trends in terms of consumer habits and behavior have you observed during this period?
From a global standpoint, it is no secret that the COVID-19 pandemic has impacted the automotive industry among several other sectors. However, we at Nissan used this opportunity to come up with innovative ways to serve our customers during these unprecedented times.
With restrictions on movement and curfews being introduced across the region, it was clear that online solutions were the way forward, to ensure the utmost safety and wellbeing of our customers and employees, while adequately catering to their needs. Our "Ode to Empty Roads" campaign was the first step to ensuring safety by encouraging drivers to stay home, stay safe, and out of harm's way.
The introduction of 'Shop@Home' across the region has allowed us to reach and interact with our customers right from the comfort of their homes. Whether it is a virtual visit to the showroom, booking a home test drive, or a video call with our sales consultants, customers were rest assured of always receiving the same high quality and personable service throughout their experience.
Ensuring true convenience, we have also introduced online vehicle purchasing and booking, as well as a home service maintenance program that is available to all our customers.
Car ownerships is continuing to decline on a global scale, do you envisage a time when most drivers will opt into a subscription model with a car manufacturer as opposed to owning the car outright?
Over the past few years, customers in the region have been seeking greater flexibility in their vehicle purchases. Keeping customers at the core of everything we do, Nissan caters to this need with attractive lease to own options for personal and business requirements, providing customers a cost-effective, flexible, and hassle-free method of driving their dream car.
With a strong network of partners, we have been able to enhance the ownership and driving experience for our customers with extended new car warranty for up to five years, and diverse range of vehicle lineup, resulting in increased sales and market share across various segments during FY20.
With a keen interest in catering to our customers' needs, Nissan is also continually evolving to create new and innovative solutions to enhance and elevate the overall ownership and driving experience of our wide customer base.
What is your view on electrification, and do you believe that autonomous cars will enter the mainstream over the next decade, or will it remain largely inaccessible for the vast majority of consumers globally?
Electric vehicles are undoubtedly the future of the automotive industry. With increased knowledge and appetite for electric vehicles, accompanied by stringent government regulations and emission laws, automotive manufacturers have already begun working towards accommodating these changes.
Nissan has been ahead of the curve, with the introduction of the LEAF in 2010 which has gone on to become one of the most popular electric vehicles across the globe with over 500,000 units sold since launch.
Recently, Nissan also announced its goal to achieve carbon neutrality across the company's operations and the life cycle of its products by 2050, and to electrify all new vehicles in priority markets by the early 2030s.
The Nissan Ariya, which will make its Middle East debut at Expo 2020 Dubai, is our first fully electric crossover and will offer customers a revolutionary experience wrapped in the latest Nissan Intelligent Mobility technologies.
The Middle East has made strides in the electric vehicle space over the past few years and with the support of various mobility, energy, and government partners, we are closer to building and supporting an electric vehicle ecosystem in the region.
On a global scale, Nissan has also announced EV36Zero, a £1 billion flagship Electric Vehicle (EV) Hub centred around its Sunderland manufacturing plant in the UK, supercharging the company's drive to carbon neutrality and creating a world-first EV manufacturing ecosystem.
Nissan has always been seen as a pioneer in the automotive industry that has innovation in its DNA, but what differentiates you from your market rivals?
"Driving innovation to enrich people's lives" is more than a statement at Nissan; it is our purpose and the guiding light that aids us in building the cars and communities across the globe. Since its inception, Nissan has always pushed the bar and "dared to do what others don't".
Nissan is a brand that is deeply rooted in the region – thanks to its authentic car nameplates that became a synonym to the local culture, especially the legendary Nissan Patrol. Nissan's relationship with the Middle East goes back to the 1950s, when the first Nissan vehicles were delivered to Kuwait.
Nissan has since been part of the heritage of the region, fostering long-standing partnerships with regional dealers, and growing Nissan into one of the most recognised and trusted brands.