CNME Editor Mark Forker spoke to Reem Asaad, Vice President, Cisco Middle East & Africa, to learn more about her incredible career in IT – and how Cisco's vision mission statement is to power an inclusive future for all and increase gender diversity and inclusion in the workplace.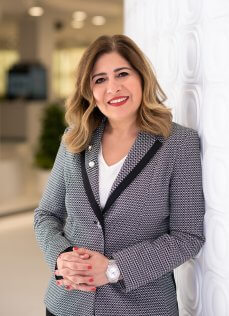 You have enjoyed a distinguished career in the IT industry here in the Middle East – and are seen by many in the region to be somewhat of a trailblazer by becoming a C-Level executive at one of the world's largest technology companies. Can you provide us with an overview of your career and how you climbed the corporate ladder?
As anyone in a position of leadership will tell you, there are many moments throughout one's career and even education, which have contributed towards where we stand today.
From a very young age, I was intrigued by technology and its ability to transform the ways in which we navigate our lives. Keen to learn more, I made the decision to move to the United States at the age of 16, specifically to pursue an education in IT. It is at this moment that I truly felt a career in the tech sector could not only be possible, but absolutely had to happen.
In my early career, I remained in the United States for around 15 years, working in roles involving technical consultancy. Where I was really able to thrive and progress was back in my home country of Egypt, where I spent 8 years with Raya Corporation, across various roles.
At a most senior level, I served as CEO of Raya Contact Centre – a business process outsourcing service provider with operations across Europe, Middle East, and Africa, working with multi-national and Fortune 500 companies. The same is true with Raya Data Centre, where I also previously worked as the company's CEO. In each of these positions, I was able to gain the knowledge and expertise required to drive company growth, accelerate digital transformation and improve regional market development.
I did not reach such positions by mere fortune, there was of course, plenty of hard work and dedication which led to these appointments. Other positions I have held with Raya Corporation include Chair of Corporate Sustainability Committee, Board of Directors Corporate Secretary and Director of IT, Investor Relations and Corporate Communication.
There have been huge strides made in terms of addressing the gender inequality in the IT and technology industry, but many believe that there is still a long way to go. Do you think major technology companies are doing enough to bridge the divide – and can you outline to us what programs and initiatives Cisco have undertaken to boost diversity and inclusion?
When we look at the efforts being made across all sectors to address gender inequality, I will start by saying that certainly, there is progress. However, we must not become complacent – there is still work to be done.
Around the world, we are seeing technology companies in particular double down on their efforts to ensure diversity and inclusion – both from an ethnical standpoint and also to serve the overall objectives of the business. Studies are time and time again proving that diverse teams lead to better output. In the tech sector, we are often building products or solutions for end users. It makes business sense to have a team that will go against the grain and actually work towards creating something new. This is only possible when you have a diverse team and a plurality of thoughts and experiences.
I have been working with Cisco for just over a year now and the reception has been tremendous. I can confidently say that Cisco celebrates women – not just for the sake of ticking a box, but to actually have fair representation and acknowledgement of achievements.
At Cisco, we strive to have balanced leadership teams and boards. We want people to look at our senior leadership and feel a sense of belonging, knowing that they too can get there – based solely on merit. Our purpose as a company is to 'power an inclusive future for all' – this really gives you a sense of how we seek to embody inclusivity in every aspect of our operations.
In terms of ongoing activities and initiatives, we have many, but I will highlight a few. We have established 'Women of Cisco' – a global community focused on attracting, developing and retaining talented women in the workplace, as well as celebrating their achievements. Each year, we also hold an event known as 'Girls Power Tech', which provides an opportunity for girls and young women to connect with Cisco mentors both locally and around the world.
We believe that progression should be a topic of discussion at every stage in a person's career. In this regard, we run our annual 'Women of Impact Conference' – a whole day devoted to the professional development of women. As well as being open to Cisco employees worldwide, we also invite members of the public to attend.
Outside of the Middle East, there is a perception that women are not afforded the same opportunities as their peers in other international markets and regions in the IT ecosystem, but do you think this is a misguided and uninformed view of the region? Or is there merit in this view, and does the region need to do better in terms of broadening diversity and inclusion across the board?
Much of this comes down to stereotypes and often, a lack of awareness. The Middle East spans a significant geography, and we must first acknowledge that each country is at a different stage with regards to creating equal opportunities. There are those which have work to do, and actually, plenty which are outpacing other markets further afield.
We have countries like the UAE and Bahrain, which have only been independent nations for around half a century each – yet, look at where they stand today. The UAE specifically introduced its Gender Balance Council back in 2015. Policymakers across the region are looking hard at driving the equality agenda, and this will only continue to improve as time goes on.
At a governmental level, the mandate is clear. What we need to see is every corner of society making a conscious effort to challenge assumptions and also create opportunities which fit in line with the equality narrative. Being the first woman in a particular field, or position of leadership is something that we celebrate today, and rightly so – but my hope is that one day, there will be no barriers left to break.
Can you tell us a little bit more about Cisco's Networking Academy and what the primary objective of that project is for the company?
The Cisco Networking Academy was established back in 1997 out of sheer necessity. Cisco donated networking equipment to a school, but as no one was trained how to use it, the technology sat unused. This initial donation led to a valuable insight: technology is truly powerful when combined with education. We need to ensure people are empowered to not only use technology, but also get the most out of it. The Cisco Networking Academy was born out of this need, and we began by training staff to build their network.
Fast forward to today, and the Cisco Networking Academy is a global powerhouse – a platform via which we are training, upskilling and developing human capital each day. Cisco is helping to futureproof careers and aid digitisation agendas through courses which develop skills in networking, IoT, cybersecurity and more.
Focusing on the Middle East and Africa, in this region alone, we have 1,627 academies running in 60 countries. In FY20 alone, we were proud to see over 370,000 students in the region gain Cisco Networking Academy certifications. This actually represented a 27 percent year-on-year increase. It is also great to see that interest is not coming from one particular group alone. Since the Academy's inception in the UAE, we have had a 51 percent cumulative number of female students. In Oman, we are looking at 59 percent. What this tells us is that the right opportunities have to be created, and people will come.
In your role as MEA VP for Cisco, what are your main objectives and goals for the remainder of 2021?
Given that I oversee and support the efforts of my teams across such a large region, I have to think very carefully about cohesiveness – how we present a united front and offer a consistent service to our customers and prospects in every country. What I find is that a blanket approach to achieving this does not work. You really need to take the time to understand the nuances of each industry and how it differs from place to place, and even according to the needs of individual customers. I like to work alongside my teams to know how we can reach specific goals, in a way that is beneficial for all parties.
Over the past year, we have helped businesses of all sizes ensure continuity, and where required, get back on their feet. Everybody knows how important investing in digitisation is, but it can also be overwhelming, and we understand that.
We are operating in a new world, where nothing can be assumed or taken for granted. How we do things has changed, and we see it as our duty to be that guiding light and counsel as businesses navigate new challenges and identify opportunities for growth. This remains my not only my personal focus, but also the shared vision of our teams. In a crowded marketplace, our technology speaks for itself, but the experience we give to our customers is another important differentiator.
We are working on further strengthening collaborations with governments, customers and partners, underpinned by Cisco's portfolio of advanced solutions to accelerate national and individual digitisation agendas.
With the support of my country managers, I oversee the work of 2,500 employees and contractors across 74 markets in the region. This means that I also need to prioritise the wellbeing and motivation of our workforce, and to do this, I have to anticipate needs and also be receptive to feedback. I am incredibly proud of the workplace culture we have at Cisco today. My goal is to elevate this further still, to attract and retain talent, this year and beyond.