CNME Editor Mark Forker spoke to Dr Manfred Braeunl, Chief Executive Officer, Porsche Middle East and Africa FZE, to find out about the automotive industry's shift towards electrification, the future of mobility in a digitally connected world – and how Porsche has established itself as a global leader in electric vehicles.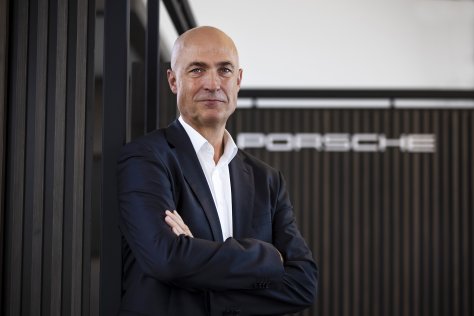 There is a growing momentum on a global scale for the rollout of electric cars, with fears over the role emissions from passenger vehicles play in contributing to climate change. Porsche is leading the way globally with their electric car offering. What differentiates Porsche from its other rivals when it comes to electrification?
Electric or not, first and foremost Porsche builds exclusive sports car. We do not compromise this. Our E-Performance strategy is a vital pillar of our company strategy going in line with our positioning as an emotive sports car brand with a focus on dynamic driving, design, quality and sustainability.
Every new hybrid or electric model will always be the benchmark in its respective segment. This is our recipe for success, and this is also why there is no plan to electrify all of our models. For the 911 for example, considerations include the development of a very sporty hybridisation known from motorsports.
The next logical step is to offer an all-electric Macan, our first all-electric compact SUV from Porsche. It will be produced in Leipzig (Germany) where a significant expansion of the production facility is under way.
The Porsche Taycan has garnered huge attention since its inception and has been labelled as the 'world's most innovative car'. What are the unique capabilities of the vehicle and why is it the most innovative in the world?
The Taycan models are at the cutting edge of Porsche E-Performance and are among the most powerful production models we currently have in our range. An independent panel of scientists and engineers has listed 27 technological innovations in the Taycan, 13 of which are world firsts.
We beat 250 other vehicles in the evaluation process claiming top spot. The Taycan is the first world's production vehicle with a system voltage of 800 volts instead of the usual 400 volts for electric cars. This is a particular advantage for drivers where high voltage charging is available: in just over five minutes, the battery can be recharged using direct current from the high-power charging network for a range of up to 100 kilometres.
In 22 minutes, the charge can reach up to eighty per cent under ideal conditions. The two-speed transmission installed on the rear axle in the Taycan is another innovation developed by our engineers. The first gear gives the Taycan even more acceleration from a standing start, while the long second gear ensures high efficiency and power re-serves even at very high speeds.
Porsche features hybrid models in its range. Will hybrid cars have a future, in your opinion?
Porsche will continue to build sports cars focusing on three drive technologies: petrol-engine vehicles, hybrids and electric sports cars. There are several advantages to choosing a hybrid model, besides lower fuel consumption and lower CO2 emissions.
Drivers can choose from either driving fully electric in the E-Power driving mode or using the electric motor as for an additional power boost, as the maximum torque is available immediately during acceleration.
Already today, the fastest model in the Panamera and Cayenne range is the Turbo S E-Hybrid.
Succeeding models will be designed with an even greater focus on performance as well as a longer electrical range of over 80 kilometres. Hybrid models remain important for the brand's product line-up in the years to come.
In many cities the rollout of electric vehicles make sense, as the infrastructure is in place to support it, but in rural areas that infrastructure is not there, so do you envisage a lot of resistance to electric vehicles from a large part of the automotive industry globally?
Some governments like the UAE are doing a lot to increase sustainability and reduce CO2 emissions, especially by focusing on the charging infrastructure to make the use of Battery-Powered Electric Vehicles viable and encourage their sale by reducing owners' range anxiety.
It is true that other governments are not yet that advanced. Our local investors are backing the drive to reduce CO2 emissions through our Porsche Destination Chargers to provide conveniently located charging points at popular locations, like hotels and malls, for customers' peace of mind.
However, we expect that that most Taycan drivers will charge their car comfortably at home, thanks to the on-board AC charger with 11 kW using alternating current. And, with a range of up 463 km in the Taycan 4S, there is almost no difference to internal combustion vehicles with regards to everyday use.
Which types of customer will buy the Taycan in the future?
The Taycan customer reflects the classic lifestyles and attitudes of previous customers – but there are many new themes. The future Taycan customer is brand-savvy, committed to responsible use of resources and is a tech fan.
Brands with a reputation are important to them, as our studies have shown. However, status for these customers increasingly derives from conscious actions from an environmental perspective, which makes the question of a brand's sustainability more important.
It is also striking that these customers have a strong affinity for new technologies. They want to be among the first to own the latest innovations.