CPI's Nitya Ravi interviewed Rahil Ghaffar, Director, Sales for Middle East and Africa, Virsec about their presence at GISEC 2022 and speculation on post-pandemic security challenges.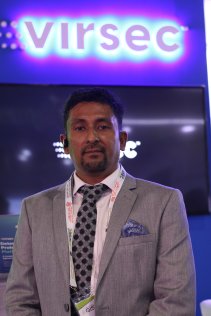 Post pandemic, what do you think are the pressing security challenges affecting enterprises?
During the pandemic and post pandemic, there has been a surge of cyberattacks and it's not going to slow down anytime soon especially with the war happening. If you look at the solutions made to counter these attacks, you will find that most of them just 'respond' to these attacks. They are not really protecting against it. So, while, responding and giving visibility is good, what is more important is a solution that can really protect at runtime and not just detect! Because if you just detect, it is giving you the visibility but the damage has already been done and it's not protecting an organisation. This is where customers reach out and say that they need an automated solution with almost little to no human intervention and which can protect all the time and not just detect.
We don't want to be seen as someone here to do just business, we prefer to be seen as an entity helping the society and the country to make cyberthreats irrelevant, to detect and prevent them from happening which otherwise gets missed and exists for months together before it is detected as zero day. The industry average is 6.75 days for detecting a new variant. Few vendors also talk about detecting within minutes like 36 to 37 minutes but we talk about detecting and protecting about milliseconds of the attack happening. This makes a lot of difference for the organisations. The IT staff can sleep peacefully at night with the surety that they are protected against known and unknown vulnerabilities deterministically.
Can you tell us about your presence in the Middle East and your partner network?
We have a strong presence in the Middle East especially in UAE and Qatar. We are also expanding in Jordan and KSA and have strong foothold in Africa too. With regards to our partners, we prefer and welcome partners who think like us, who want to make cyberthreats irrelevant for the country and the society because that is what our mission is. We prefer quality over quantity and in that regards we look for focused partners specialized in cybersecurity and who can focus on our products. We are looking to expand our network with more of these types of partners.
How prepared are partners in helping customers improve their security posture and how is Virsec helping them with the same?
Partners are becoming smarter and gearing up after the pandemic. They devise several ways to support their customers and are doing a good job of the same. They know they must innovate to exist and that is why they are partnering with Virsec since we are the only solution that can protect deterministically across the three layers of the sever, the host, memory, and web close to milliseconds dual time. They are taking our solution to customers who are welcoming it with open arms.
We also ensure that our partners are well equipped in terms of knowledge and skillsets to delight the customers. We help our partners to scale in terms of product knowledge and in providing a smooth deployment of the product. As part of our partner program, they have access to numerous trainings in-person and otherwise, videos, incentive programs, certifications, product updates and discussions that help strengthen our channel and our services to the customer.