Raqmiyat's director of managed services Ugresh Kumar discusses how the firm's practice has gone from strength to strength and the ways it can do the heavy lifting of GCC digital transformation.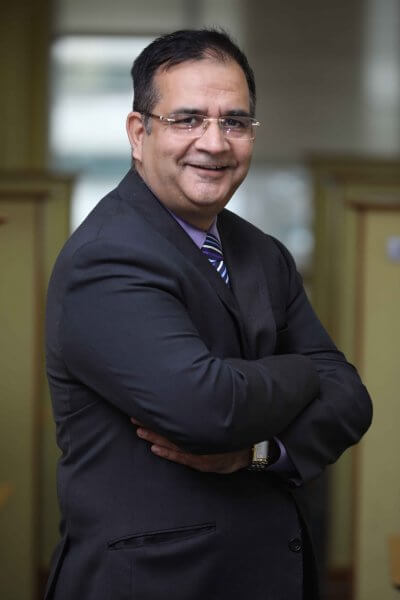 Why are managed services so important in 2019?
They're an integral part of IT and are all about selling a dream. You may not think you need a smartphone purely for the device, until you see all the apps that you can download once you've got one. A hardware salesperson knows what they have to sell based on customer needs, but it's not the same with managed services.
If IT is not your company's core business, you shouldn't make a large practice out of it. Managed services allow things to be outsourced, and allow your internal IT team to focus on business issues instead of IT infrastructure. Managed services customers usually think their jobs are at risk but that isn't necessarily the case. Certain business and economic drivers force customers to look at managed services.
How do managed services give customers peace of mind?
Every government entity is looking at managed services because they want to focus on their core business and want SLA-based services. We get rewards or penalties based on the contracts we agree. One critical factor is that customers want ITIL processes. It's a huge subject and customers don't know much about it, but our resources and experience allows them to map their apps, development or infrastructure around ITIL processes. This brings value to customers. We show ROI based on the uptime of systems. If 800 email users are sitting idle, there could be phenomenal loss of revenue for a company.
What kind of managed services does Raqmiyat offer?
We offer the whole nine yards of IT, including managed data centres. We also offer managed helpdesks, which allow calls to be closed appropriately and reports given. Our end user support services go hand in hand with helpdesk services and allow issues to be easily fixed.
We also offer network security audits and services. As a partner to the customer, we deliver vulnerability and penetration testing from the inside and out. Based on our findings we deliver a continuous process of improvement, and look after their switches and wireless network.
One pain point for customers is IT asset management and procurement. We offer the complete lifecycle management of an asset. It's a laborious and painstaking job, but the customer needs it.
One opportunity we're working on with mid-size companies is CIO advisory services. Not every organisation can afford a CIO and not everyone needs one. We help businesses come up with roadmaps and show that we're not a threat to the IT manager, but that we complement them.
We also offer project management as a service. Project management services are not cheap, and typically cost over $10,000 per month. They often aren't needed every month, so we offer them as shared services. We have a PMO which has project managers that work on customer requirements.
The same goes for our database management services. I don't need someone to touch databases every day, so we give solutions based on customer requirements, which could be 1-4 days a month upwards. Customers can then optimise their costs and get a value-add at an optimal price.
How does Raqmiyat work with customers to ensure that they are up to date with security and compliance mandates?
We give customers options to scale their IT up and down depending on their budget. As a service partner to customers, we have better skill sets and market reach for security and compliance issues. Even if organisations hire the best security professionals, they can become dated on the compliance side of things, as they keep changing. Managed services allow you to adapt as new standards come in. We ensure appropriate compliance with new government standards.
We're currently working with a Dubai government department on a minimum security baseline to ensure compliance standards are met. They'd worked with EY first,  then asked us to implement recommendations to ensure things are done thoroughly. There were a lot of cyber attacks last year, and the UAE government is becoming stringent with security compliance as a result.
We take a proactive approach to maintenance, which means we monitor customer involvement 24/7. A healthy day-and-night email solution is critical today, for example. If you manage an in-house email service and the database size of your emails goes beyond the threshold and crashes, you'll need to reboot the system and that takes 6-8 hours. With managed services, Managed services delivers automated alerts when things are 85% full, which allows the quick movement of files to create space and ensure a system remains healthy.
What should customers look for in a managed services providers?
A partner needs technical and industry expertise and must be able to deliver a roadmap for the next three years. They need to have the right in-house and partner ecosystem, to be able to scale up with customer needs. They should be able to offer all managed services aspects as needed to the customer. They should be responsive. If I'm not beating SLAs, it leaves a bad taste with the customer. Cost-effectiveness is critical. That means we should charge what we deliver to you. IT budgets should not exceed what they have been given by finance.
How important is it for you to deliver excellent customer service?
The right attitude is so important. Service comes from the heart. If I don't want to serve, I won't give my all. We need to put ourselves in the customer's shoes. The customer should feel that we're a partner, not a vendor. When I joined Raqmiyat, one of our customer's contracts came up for renewal and we decided not to keep working with them because the contract wasn't beneficial for us. We disengaged them for a year, but they are now talking to us again because they can see the difference between Raqmiyat and other service providers.
Service starts from the top. Our CEO is very customer-centric. Managed services are defined by customer experience. We have to be diplomatic. We partner with an MNC that does training on soft skills. You cannot always reason with a customer, but you need to find out why they disagree, put your ego to one side and deliver a solution. Most of the time, you have to comply with what the customer wants. We have to keep an eye on costs as well, because customers often want everything for free.
What kind of demand are you expecting to see from clients over the next year?
A lot of projects are happening around Dubai South as a lot of clients are popping up there. Certain projects need to be closed before 2020. We're working with key government agencies in Dubai. Working with Dubai's decision makers, gives us an idea of where the market is going.
We're also getting good traction from Saudi Arabia, which is our other main focus market along with the UAE. The market is starting to open with the entertainment industry, which needs IT infrastructure and managed services, and women being allowed to drive. We're looking to win four new managed services customers in Saudi this year and eight in the UAE. 90% of our business comes from the government. We have a mandate to work with the government and are selective with enterprises.
Which technologies do you expect to impact the managed services space in the near future?
Cloud has of course had a very disruptive effect on the market. Services around cloud are very different. People are contemplating whether to have their own data centre.
Automation tools are also changing things – smart and intelligent tools with predictive analysis. Asset and helpdesk management can be done through automation tools.
Over the last five years, the industrialisation of IT has kicked in. If you need an electricity connection, you apply to DEWA and get one – you don't build up the capacity for your house. The same goes for IT. AWS and Microsoft Azure have changed the game. You now consume the IT. If an organisation has a data centre with 100 servers which are always on, 10 of them may be dedicated to finance. Their usage is at its maximum payroll is processed. With cloud, you can dedicate this based on resources. Most of the time, finance and HR servers can be shut down after office hours. That reduces consumption and your IT bill.
With Alibaba, Amazon and Microsoft opening data centres in the GCC you can see a paradigm shift to an opex model. On the technical side, IT has become business-driven. Today, consumers decide. Cloud providers already offering data-centre-as-a-service. With their global presence, customers can also have a global presence.