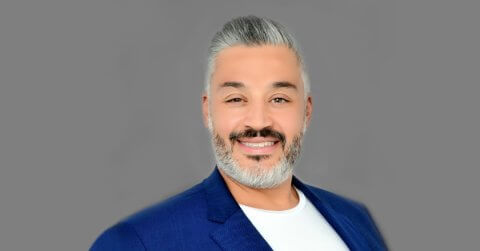 tahawultech.com recently caught up with Samer Al Jayyusi, Regional Director for Data Centres at Dell Technologies, to find out more about the importance of servers in the digital transformation journey – and how Dell Technologies is supporting businesses to tap into new growth opportunities through these solutions. 
What are your top tips for the region's IT managers as they chart their organisation's success into the new year?
In the digital era, IT is the driving force behind business success. Being ready for the future doesn't require a road or even a map, but rather an adaptable, scalable and secure IT innovation engine made up of servers, networking, storage and systems management that work together seamlessly to drive the business in whatever direction makes sense today — and be ready to shift gears quickly when the next opportunity is illuminated.
The engine you use to drive your business forward should be designed to help you innovate, adapt and grow, and this is where servers come in. IT managers need to relook at servers to address unique challenges and needs, as they are the bedrock of the digital journey.
Applications and workplaces are becoming more complex, so it is becoming imperative, now than ever, to have end-to-end solutions that work together seamlessly. In order to continue to innovate and lead with technology, it is essential to have an agile, reliable, future-ready server infrastructure with an array of innovations that enhance performance, and allow organisations to grow, scale and evolve.
This will help organisations in adapting to the digital era, and responding quickly to a changing environment, as servers can provide high performance for a diverse set of applications from the edge to the cloud to the core.
What are the benefits of proactively maintaining a modern server infrastructure? What are some of the challenges that servers help businesses solve?
Legacy infrastructure and applications increase IT complexity while a growing data landscape makes it difficult for IT to keep up — let alone drive innovation, with increasingly pervasive data requiring decentralised compute. Servers can help enable organisations to harness advanced capabilities like AI and predictive data analytics to illuminate data driven insights, while simplifying management and strengthening security.
Additionally, the rapid pace of change means that organisations need to be ready to keep up with demands and stay successful. However, growing demands on infrastructure make managing and securing technology more challenging. Through server solutions, organisations can add new technologies and modernise with scalable compute resources that support evolving business goals. Servers can also support organisations to accelerate the implementation of complex, data centric workloads with faster development, testing and deployment to hybrid cloud infrastructure, integrating many processes into one system.
New workloads and emerging technologies require organisations to adopt the latest technology without disruption, but most IT teams are already stretched thin just "keeping the lights on." Servers can help organisations adapt for future requirements while enhancing security and compliance and handling growing data, to deliver faster time to insights — without increasing headcounts or budgets.
What are the organisational benefits of timely server replacements and upgrades?
A server refresh can often be delayed or undervalued, but it is one of the most crucial components of an organisation's IT. According to IDC, upgrading server infrastructure on a regular schedule improves relative performance, consolidation, management efficiency and reliability. This means that organisations can save a lot in capital and operating costs annually, as well as improve performance and business agility, allowing organisations to focus less on maintenance and more on innovation.
Just because a server seems to be running fine, doesn't mean it is running optimally. On average, server performance erodes by 14% annually. By the fifth year, a server has only 40% of the performance it had when it was new. Lower performance and higher failure rates can increase unplanned downtime. At the same time, higher maintenance costs require additional investment in aging systems.
However, optimised systems can accelerate performance, and modern features can enhance asset management. As businesses scale quickly, modern management tools allow better workload tracking and performance analysis. Upgraded servers have the latest firmware and patching updates, keeping devices secure and in compliance with enterprise specifications.
Modern servers also improve the capability for higher virtual machine density and larger virtual machines. This allows high-end business applications to migrate and run in a virtualised environment. Fewer, more powerful systems can also reduce energy and cooling costs, data centre space requirements, maintenance time and licensing costs.
Can you tell us more about Dell's server solutions?
To help organisations adapt to the digital era, Dell PowerEdge servers provide high performance for a diverse set of applications from the edge to the cloud to the core. The company attained the number one position in UAE, with 30.8% of share, as well as number one in Gulf, with 56% of share, as per IDC's Servers Market category tracker for the third quarter of FY2023.
Dell's performance for its server portfolio reflects the company's focus on innovation and drive to empower regional customers to address pressing business demands. Dell Technologies PowerEdge portfolio includes rack servers, tower servers, modular infrastructure, industrial-grade OEM rugged servers, and specialty servers that are purpose-built for complex, harsh and compute-intensive workloads at the network edge. Dell Technologies also offers management solutions, that can help automate the full IT lifecycle with the OpenManage portfolio, increasing the productivity, reliability and cost effectiveness of servers while making IT operations more efficient.
Additionally, the Dell PowerEdge server portfolio has been segmented specifically to deliver the right combination of technology and capabilities to address unique needs for adaptive compute. These naturally encompass a wide range of use cases, such as building a private cloud, adding new capabilities to enable AI, refreshing infrastructure to take advantage of the cost savings and the benefits of the new PowerEdge portfolio advancements, and much more. Some of the benefits also include autonomous compute infrastructure with intelligent systems that work together and independently to deliver outcomes aligned with business priorities, and proactive resilience designed for secure interactions and the capability to predict potential threats.
Moreover, the PowerEdge is our most sustainable server portfolio yet. Engineering advancements have helped us reduce our energy intensity in PowerEdge by 83% since 2013 and we increased our energy efficiency by 29% from the previous generation.