With hybrid work models becoming the norm, businesses are looking at easier, quicker collaboration solutions to enhance productivity. Erdem Soyal, Vice-President Middle East and Africa at Barco, tells Anita Joseph about how its ClickShare Conference wireless solution is revolutionising the meeting space with its intuitive and cutting-edge features.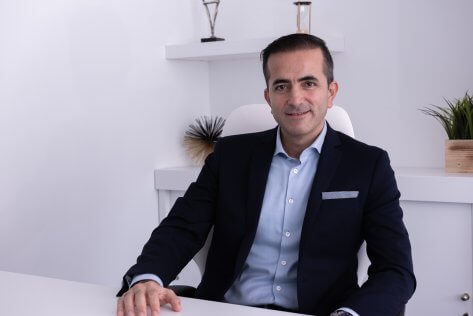 How has the idea of collaboration & communication changed post the pandemic?  
The Covid-19 pandemic had a large effect on the workplace culture. Upon mandatory working from home regulations, businesses across the globe had to quickly set up a work from home structure that provided the same level of collaboration as physical presence in the office. By doing so, businesses have come to realise that the level of productivity can be maintained through digital tools designed to connect individuals regardless of location.   
How would you describe the market for collaboration solutions today, especially in the region? 
According to a recent Forbes article, 77 percent of the workforce wants to continue working from home, at least once a week even after the pandemic is over. It's important to connect in-office and at-home workers to ensure nobody is left behind. Today, the market calls for a hybrid work model to ensure flexibility and ease employees back into the office, as a move back into the office is unlikely to be instant or unanimous. 
Barco's ClickShare Conference is a wireless solution that allows teams from various remote locations to collaborate with ease using their favourite device and online conferencing solution. It's an open system with no need for cables and adapters, making hybrid meetings as intuitive and straightforward as face-to-face and preserving the benefits of team collaboration. 
Hybrid workspaces are a thing now. What are some of the leading trends here? 
It isn't just the layout of the office that will have to transform for a hybrid environment. The shift also creates an opportunity for businesses to evaluate whether to replace or upgrade outdated and inefficient collaboration technologies. 
Employees across multiple sectors have embraced the laptop as the main device to work, collaborate and host meetings, fuelling the surge in preference for 'Bring Your Own Meeting' solutions (BYOM). Our research has shown that 77 percent of respondents cannot imagine working without their laptop and have enjoyed sharing their screen and content with just a simple click. With meetings now being controlled via the user's laptop, businesses will need to invest in solutions that continue this seamless connectivity into the office environment. Agnostic solutions like our own ClickShare will allow workers to connect and collaborate no matter what meeting platform they use, driving a replicable laptop-centric experience of homeworking in the office. 
Tell us more about Barco's ClickShare portfolio and how it is redefining the collaboration experience. 
The ClickShare portfolio consists of two core solutions, ClickShare Conference and ClickShare Present, which are both designed to make hybrid collaboration flow with just one click. With Present, we offer a seamless extension to wirelessly share contents within the existing meeting room setups. Conference, however, unleashes the power of 'Bring Your Own Meeting' by allowing users to connect from or with any device to instantly collaborate with remote colleagues and virtual attendees.  
Meeting experience has always been held down by the delays or inability to seamlessly connect and share content with those participating in it. ClickShare aims to eradicate disruption and replace it with heightened and seamless collaboration through wireless connectivity. With ClickShare, employees can simply walk into a meeting room, automatically connect to the surrounding setup, instantly connect and share content, these are things that have been missing from meeting experiences for some time.  
Furthermore, Meeting rooms are often configured in Microsoft Exchange/Office365 to enable users to easily find and book them when planning a meeting. Room availability via Calendar integration is the new feature added to Clickshare which enables you to also configure the meeting room name, so that it can be easily identified by the user when connecting to the room with the ClickShare App and showcase room Availability on the main screen.  
The one USP of the ClickShare portfolio is that it can integrate different devices in different rooms, to provide the same experience for everyone. What's the technology used here? 
ClickShare uses proprietary technology to make more than 80% of the meeting room peripherals sold today wirelessly available as USB devices on the hosts' laptop, enabling them to use this seamlessly in their videocall, regardless of the UC&C platform. 
How about the security of all connected devices? How do you ensure this? 
Cybersecurity is a continuous topic and can pose a threat throughout the lifecycle of any product. Barco ClickShare products are designed with safety, privacy, and confidentiality in mind. We implement the necessary fixes, measures and features into each one of our quarterly updates ensuring that the level of defence is continually up to date. To help us monitor for any immediate threats, Barco has a Product Security Incident Response Team that continuously monitors privacy and security risks and drives security improvements to ensure ClickShare maintains its earned reputation as one of the most trusted wireless collaboration tools in the market. In addition, ClickShare has received the ISO27001 certification ensuring we handle both data and security within the aspects of an industry standard process.  
Can you tell us about how digital transformation has changed since the pandemic 
 
A common misconception is that the pandemic caused several companies to pause on the digital transformation of their companies however, given the operational challenges presented by COVID, and the necessity for hybrid working solutions, many industries have shifted focus toward collaboration tools. Video conferencing is now a fundamental pillar of working life, and business and IT leaders have a unique opportunity to redesign their office space to make every meeting room compatible with video conferencing technology. This includes ensuring that video-ready workspaces offer connectivity for both on-site and remote employees, and that room peripherals – such as microphones, speakers, and cameras – are up-to-date and compatible with laptops and mobile devices.  
Expanded video capabilities also take greater importance as travel restrictions remain in place, with planning meeting and sales demonstrations that previously occurred in an on-site board room now shifting to a virtual arena.  
What behavioural changes could we expect to see when we return to the office? 
For many employees, the appeal of returning to the office is the chance to re-engage and collaborate with colleagues. Even with that benefit, the definition of the workplace has changed and it is unlikely that we will view the office as a space to just simply put our heads down in silence and get on with our tasks. Rather, the office will be re-imagined in an experience first layout, serving as an area to meet, collaborate and connect with co-workers or customers. With some of the more traditional cubicles and desks making way for more casual seating, our desire to interact on a physical level will drive a more sociable office layout. 
Of course, a hybrid structure will mean that some colleagues will be working remotely while others head into the office. This will ultimately mean more internal meetings taking place which in turn poses another issue, where will people be hosting their meetings or internal catchups? There are certainly not enough meeting rooms in typical office spaces to facilitate this, meaning that casual spaces like pods or huddle rooms will need to have some sort of AV equipment installed. 
Technology helped us to get through the initial stages of the pandemic, keeping us in close contact with our team and colleagues. However, with hybrid models set to stay for the longer-term, we've had to fully embrace the technology we work with and start to form our own positive habits to enhance our working lives. Now, as we return to the office, business leaders need to be conscious of the fact that employees will want more freedom and flexibility to be able to work in the way that suits them. If businesses do not place the experience of customers and staff at the forefront of their returning plans, they may begin to struggle to attract and retain talent in the new era of working. 
What are some technology investments for the future office? 
While the era of the desktop has been on the decline for years, Covid has definitively cemented the era of the laptop as the default model. Employees have relied on and grown more comfortable with their laptops while working remotely, forming a bond unlikely to be broken by a return to the office. In fact, a recent Barco study found that more than three quarters (75 percent) of workers could not imagine working without their laptops anymore. 
With the added flexibilities that laptops provide to employees, in particular allowing them to log into and conduct virtual meetings with just a simple click, it is likely that their central role in the world of work will continue. Our ways of interaction in the office are also likely to change when we return. Rather than spending most of our time at a single location, we are more likely to interact with team members in new huddle spaces, making the laptop's portability an added strength provided collaboration tools to share presentations and include remote working colleagues is seamless.