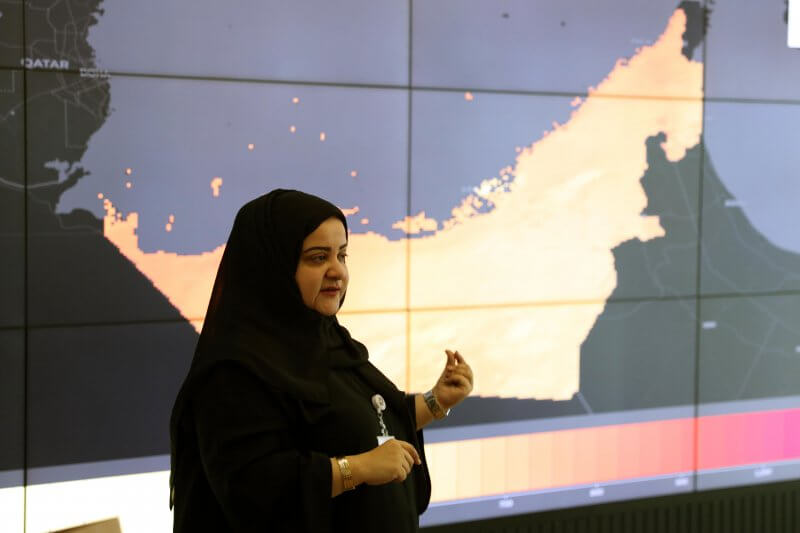 The human race faces an undeniable, uphill battle to reduce the effects of its existence on earth. The planet's average surface temperature has risen about 0.9 degrees Celsius since the late 19th century, a change driven largely by increased carbon dioxide and other human-made emissions into the atmosphere, according to the National Oceanic and Atmospheric Administration. The difference may seem negligible, but has profound effects on earth, including rising sea levels and melting of the polar ice caps.
Human activity is also self-harming – according to the World Health Organisation,  there are 4.2 million deaths every year as a result of exposure to outdoor air pollution, while 91% of the world's population lives in places where air quality exceeds WHO guideline limits.
Aisha Al Abdooli, director of the UAE Ministry of Climate Change and Environment (MOCCAE) Green Development department, understands just how important the use of technology will be in tackling some of the biggest issues posed by climate change. "We want to provide accurate, real-time data that can help the environment," Al Abdooli says. "Once you have that, it can deliver more informed decisions, and that enables the right procedures around helping the environment and improving the health of citizens."
In September, MOCCAE launched its Artificial Intelligence Laboratory in collaboration with Khalifa University of Science and Technology and the International Renewable Energy Agency (IRENA) at the Ministry's headquarters in Dubai. Since the launch, MOCCAE has developed three AI-powered prototype tools in collaboration with the organisations.  
The AI Lab compiles and analyses real-time data to inform decision-making, and is updated every 15-60 minutes to deliver "highly accurate and reliable" data that is accessible to the general public.
Let the sun shine
The bid to develop renewable energy sources is not without its challenges. Identifying optimal ways to harness power generated by the sun is  a key priority; according to the United States National Academy of Engineering, most solar panels are only 10-20% efficient. In other words, the majority of energy from the sun's rays isn't even captured by solar systems, largely because most solar panels are stationary and can't move to meet the sun's direct rays.
MOCCAE's real-time solar map for the UAE and solar technology simulator is now being used to identify areas of concentrated solar energy that can serve as ideal installation sites for solar panels. The solar simulation system provides a dynamic map of the performance of solar power plants based on a set of user-defined criteria, to help with the design of future plants. "Decision makers can use this information to maximise the efficiency of solar power plants," Al Abdooli says. "They can check the efficiency of solar panels based on the solar energy in a particular location. Anyone who wants to install solar panels, or prospective plant builders, can login via the system and identify hotspots to install solar panels."
Clear the air
MOCCAE's AI Lab has also developed a real-time environmental monitoring and forecasting system. Using satellite data and AI-based algorithms, the system monitors and predicts air quality across the country, and displays instant readings and calculated forecasts of the air quality index (AQI). It also generates maps that illustrate current and projected concentrations of primary gas pollutants in the atmosphere – carbon monoxide, nitrogen dioxide, sulphur dioxide and ground-level ozone – as suspended particulate matter up to three days in advance. The satellite readings complement the output of the 41 stations that monitor air quality across the UAE, which cover most of the country's territory, but are independently unable to monitor air quality in rural and remote areas.
The UAE aims to attain 90% air purity in less than three years as part of its National Agenda 2021, with that figure currently sitting at 77%, according to Al Abdooli, and this tool could prove invaluable in that bid. As a result of a wide range of natural and human factors, air quality has decreased significantly across the world, and is closely related to the size of natural and human activity in concentrated areas. As the concentration level of air pollutants increases, human health is at higher risk of harm.
A team of "20-25" staff began work on MOCCAE's AQI algorithms at the start of 2017, according to Al Abdooli, which took a year to fully develop. "Installing a smart system can enable one thing, but our system has in-built prediction algorithms and coding," Al Abdooli says. "It can link several inputs and predict outcomes. Air quality and pollution impacts the general health of the population, so we have to learn about ways to get information on pollutants. Clean air is one of the basic requirements of human health and well-being."
The AQI is now visible to the public via MOCCAE's mobile app. The daily AQI indicates a value ranging from 0–500 and also shows the dominant air pollutant that is affecting air quality. "The system also enables us to monitor the movement of dust before it arrives in the country," Al Abdooli says. "We can know three days in advance if there will be high levels of dust, and can issue warnings to take the necessary procedures."
Above water
Completing the lineup of the AI Lab's tools is a marine environment monitoring system that uses data generated by National Aeronautics and Space Administration (NASA) and European Space Agency (ESA) satellites to produce a daily assessment of water quality in the UAE. The system also tracks ocean currents and marine pollution, including oil leaks and harmful algal bloom events, and provides information to help optimise tanker routes in the GCC region.
In 2014, the spill of coal-processing chemical 4-Methylcyclohexanemethanol (MCHM) into the Elk River in West Virginia caused it become contaminated, running into the public water supply. Over 300,000 people were left without water for several weeks. Researchers had little information on how to measure the quantities of chemicals or their toxicity due to inexistent information, according to the United States Geological Survey.
"It's important to learn about the quality of coastal water," Al Abdooli says. "We can gain access to physical and chemical data in real-time, and gives us complete knowledge of water quality."