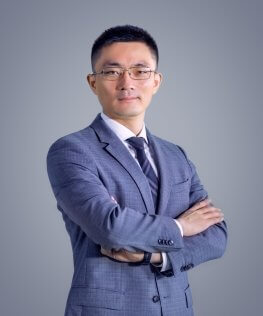 David Shi, President, Enterprise Business Group, Huawei Middle East, believes increased investments in advanced technologies has created an 'unmissable opportunity' for the UAE to become a total knowledge-based economy.
Increased investment in the digital economy, cybersecurity, and advanced technologies has set the Middle East on an accelerated path toward knowledge-based economies.
A recent report by the World Bank indicates that fully digitalising the MENA economy could lead to a rise in GDP per capita of at least 46% over 30 years or at least $1.6 trillion in long-term gain.
The report estimates that the region's GDP per capita gain would be almost $300 billion during the first year.
Multi-tech synergy
Innovations in 5G, cloud, AI and other 4IR fields are driving this shift. The Middle East is ahead of many other regions in this respect.
Because of the fast roll-out of 5G, some regional countries are a reference point for how technology can help to advance the development of all industries, especially when integrated with connectivity, computing, cloud and AI.
Cloud is key to unlocking this digital world and is the foundational technology for other 4IR technologies such as IoT, blockchain and more.
Huawei's new cloud model, Everything-as-a-Service, envisions a future where all devices, sensors, and all things will be connected, and all infrastructure and applications will be cloud-based.
We strongly believe that business leaders should adopt cloud native 2.0 architectures to boost innovation and digitalisation.
Additionally, we need to embrace AI and let data play its part in supporting operational decision-making. Eventually, multi-tech synergy is critical for finding the right technology for the right scenario.
Smart City Innovation 
Applying these innovations at scale in campuses and cities will help bring digital to every person and enterprise. More specifically, emerging ICT technologies address traditional campus challenges, such as low efficiency, poor service experience, energy waste, and high operational costs.
Smart City technologies enable smart governance, improve public wellbeing, and support smart industry development. Huawei Smart Campus Solution implements digital transformation of campuses, fuels innovative industry development, and enhances service experience.
For cities, Huawei applies Smart City best practices and more than 30 years of experience in the ICT industry to overcome technical and operational barriers and help city managers improve service quality and efficiency.
Building Sustainable Ecosystems 
While we unlock the digital economy, we must ensure progress does not come at the expense of our environment.
In fact, technology is key to accelerating the region's sustainability goals. A recent World Economic Forum survey revealed that 40% of top business leaders believe digital technologies are already positively impacting their sustainability goals.
To help accelerate decarbonisation goals, Huawei's latest digital power innovations enable partners to slash the carbon footprint of an increasingly energy-hungry world that can revolutionise nature conservation and address climate change.
The integration of digital technologies and power electronics technologies powers clean energy development and energy digitalisation.
Investing in Talent Development 
However, a fully-digital Middle East is only possible with an effective talent development pathway. While regional universities have expanded their ICT offerings, the demand for ICT skills is growing exponentially while new technologies are emerging daily.
Therefore, enabling solid capacity-building for the youth in ICT is a prerequisite in today's digital world, as is upgrading and upskilling for experienced hires or anyone considering a mid-career switch.
As a leading global ICT solution provider, Huawei advocates for an open and shared ICT talent ecosystem that benefits all parties and we will continue to invest in ICT talent development in the region.
Through our Seeds for the Future initiative, Huawei ICT Competition, Huawei innovation Competition, Joint Innovation Centers and joint labs with universities and government authorities and many others, we promote collaborations between public and private sector entities, educators, and technology companies to develop talent.
In the Middle East, Huawei has set up 167 Huawei ICT Academies, over 40,000 people have obtained Huawei certification. Huawei has also have trained over 120,000 ICT talents for the Middle East as part of these efforts.
Building digital ecosystems for shared success
As a long-term ICT partner to Middle East enterprises, SMEs, carriers and the government, Huawei is taking steps to help break through common barriers in digital transformation and effectively promote the digital economy and build up stronger digital ecosystems.
With our largest-ever participation at GITEX GLOBAL 2022, where Huawei is the Diamond sponsor, we are reaffirming our continued commitment to the region's ICT ecosystem.
Under the theme of "Unleash Digital", Huawei will showcase the newest end-to-end products, solutions and advanced ICT technologies focusing on 5G, cloud, AI, digital power, cybersecurity, and industry applications designed to meet the needs of various industry scenarios and sectors such as government, utilities, oil and gas, transportation and finance, and address government national digital transformation goals.
Huawei Connect, our global flagship event will be held in Dubai for the first time, where we will discuss the challenges that governments and enterprises face at all stages of their digital transformation journey, Huawei's advancements in digital infrastructure, as well as the company's latest cloud services and ecosystem partner solutions.
We will also share strategies to advance digital development across a wide range of industries and key innovative technologies across data connectivity, transmission, and storage.
Our ultimate target is to build a comprehensive ecosystem for open collaboration and shared success, and we look forward to exploring this further with our customers and partners.
Huawei remains committed to bringing technological advances to even more industries and creating new value by helping governments and enterprises go digital while operating more intelligently and achieving sustainability.