Samsung Gulf Electronics has announced that a Memorandum of understanding (MoU) has been signed with Schoolvoice, the UAE-pioneered EdTech and a digital platform designed for schools to optimise communication and engagement within their community, to guarantee the continuity of effective distance learning. The news aligns with the UAE government's directives to ensure rapid response in dealing with the impact of the outbreak on the education sector and keep pace with the changes imposed by the pandemic.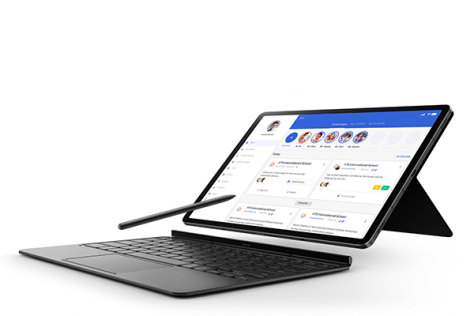 The signed MoU aims to empower schools across the UAE, looking to harness cutting-edge and  state-of-the-art technologies for digital education. The two parties will cooperate by virtue of this partnership to enhance the learning and teaching experience for the students and teachers in the country.
Under the agreement, Samsung will equip schools with its innovative Knox solutions, boasting a Samsung tablet and accompanying S Pen, which will make learning easier and more enjoyable both at school and at home as the latter can be used to quickly jot down ideas and help users organise their thoughts on Samsung Notes. The smart device will feature the Schoolvoice application, which is dedicated to amplifying communication between the different parties of the educational ecosystem and ensuring responsive and agile engagement.
Mohammad Gharaibeh, Head of Enterprise, Mobile Business at Samsung Gulf Electronics, said: "Samsung has always been eager to support the education sector with unique commercial pre-loads, which prove invaluable to students. We are delighted to collaborate with Schoolvoice to provide the educational segment with an out-of-the-box experience through Samsung Knox."
Ali bin Yahya, Founder and CEO of Schoolvoice, also commented on the strategic partnership, stating: "Our partnership with Samsung is yet another step forward in the digital education realms. Not only does it mark new progress in the education journey, it will also propel the virtual classroom towards smart, adaptive, and fully-fledged technologies that promote a culture of communication and reciprocated engagement within the school community. At the same time, it will transform teaching methods and keep the parents well-informed regarding the day-today academic activities of their children."
This partnership is aligned with the UAE's leadership vision to utilise modern and resilient technologies in the classroom, in order to adapt to the major transformations shaping the education sector in the country.