GEMS Education has launched five Centres of Excellence designed to promote technological and digital learning and create unique student pathways and experiential learning around emerging industries during the GEMS Xhibit event.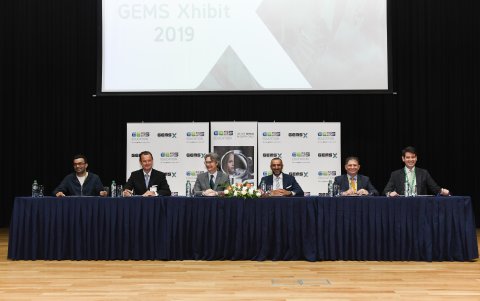 The launch was held at GEMS Wellington Academy – Al Khail in the presence of Reem Al Hashimy, UAE Minister of State for International Cooperation and Director General of Expo 2020 Dubai Bureau.
A first-of-its-kind initiative, the five Centres of Excellence include: Artificial Intelligence and Robotics at GEMS Dubai American Academy; Digital Industries and Sustainability at GEMS FirstPoint School – The Villa; Aviation and Space at GEMS International School – AL Khail; Performance and Theatre Technologies at GEMS Wellington Academy – Silicon Oasis; and Entrepreneurship and Youth Start-up at GEMS World Academy – Dubai.
The GEMS Xhibit event served as an opportunity to highlight the tech-innovation skills of students in front of industry experts, and underpinned the value that innovation brings to education and how it contributes to shaping the future of young people.
Dino Varkey, CEO, GEMS Education, said, "Our students have been at the forefront of developing innovative and creative ideas to solve complex problems. At GEMS Education, our goal is to offer experiential learning and promote the innovation and creative skills of our students. Our GEMS Centres of Excellence will not only benefit from the knowledge, expertise and projects of our key strategic partners, but they will also provide limitless opportunities to our students. Through these partnerships, GEMS Education students will gain exclusive insights into skills and jobs of the future through project-based internships. They will also learn through bespoke curricula on technology-oriented subjects like artificial intelligence, drones, space engineering and performance arts production."
During the launch, collaboration agreements in the fields of curriculum leadership and development support for AI, robotics, entrepreneurship, sustainability and e-commerce were signed between GEMS Education and key partners including noon, Siemens, RIT Dubai, Al Tamimi & Co, and American University in Dubai.
Michael Gernon, Chief Education Innovation Officer, GEMS Education, said,: "This is what future-focused education should be about – bringing together the very latest thinking with technology applications and AI through a range of real-life challenges and partnerships with leading businesses and universities. It will add both unique and incredible value into the K-12 sector in a way that has not been possible before. The focus on innovation, research and development at GEMS Education is a significant one across the entire company, with the Centres of Excellence leading the way. We are aiming to blur the traditional boundaries of school, university and employment, and create a new learning ecology for GEMS students – one which will see them earn a range of credentials and qualifications from our partners from age 14 onwards and, through these unique experiences, be better prepared for the world of the future than any other students."
Seventeen school teams comprising GEMS Education students showcased their Global Innovation Challenge solutions and products during GEMS Xhibit. These projects included 'SHERO' and 'Smart Bandages', both of which were selected to showcase at the Singularity University Global Summit in California earlier in the year.