Abu Dhabi's Department of Economic Development, ADDED, and Abu Dhabi's Smart Solutions and Services Authority, ADSSSA, have implemented the Tamm system, which will shorten the process of obtaining an economic licence from eight steps to only one step, without the need to visit any government entity.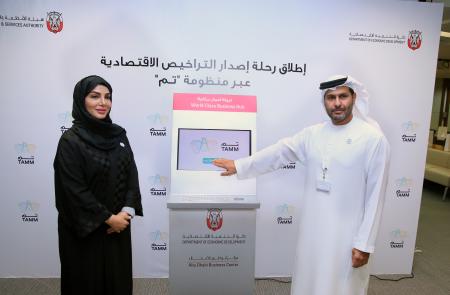 This is in line with the recent social and economic initiatives of Sheikh Mohamed bin Zayed Al Nahyan, Crown Prince of Abu Dhabi and Deputy Supreme Commander of the UAE Armed Forces and Chairman of the Executive Board of the Emirate of Abu Dhabi, that included an economic package aiming at strengthening the development of Abu Dhabi.
Besides launching numerous socio-economic initiatives, in accordance with the direction set forth by the Executive Committee of the Executive Board of the Emirate of Abu Dhabi, ADSSSA and ADDED are taking control of the journey for issuing economic licences in the emirate via Tamm. Saif Al Hajeri, Chairman of the Department of Economic Development – Abu Dhabi, noted that the launch of this service is aimed at strengthening the economic development of Abu Dhabi for the coming three years. He said it represents a significant transformation, enhancing Abu Dhabi's business competitiveness at an international level and enabling investors to issue licences from anywhere in the world, at any time.
He indicated that in just one month the average rate of issuing instant licences for economic activities in Abu Dhabi climbed from 70.8 percent to 91 percent of the total economic activities licenced in Abu Dhabi, noting ADDED's commitment in providing exceptional smart services, in close collaboration with ADSSSA to strengthen Abu Dhabi's business environment and boost investment.
In this context, Saif Al Hajeri highlighted the efforts made by ADSSSA in the provision of smart technical support for government services in Abu Dhabi via "Tamm." He said the authority's vision represents the efforts and determination made by the government of the UAE to upgrade the smart system, by delivering an all-round experience for all kinds of clients to save time, effort and money of the investor and enhance the attractiveness of the economic environment of Abu Dhabi.
Dr. Rauda Alsaa'di, Director-General of ADSSSA, stated that the authority has succeeded within one month only via the Tamm combined system to bring about a paradigm transformation at the international level in the system of economic licence services in Abu Dhabi.