The Dubai Electricity and Water Authority (DEWA) has inaugurated the InfraX Network Operation Centre to support industries across the UAE to build digital applications leveraging AI and other technologies.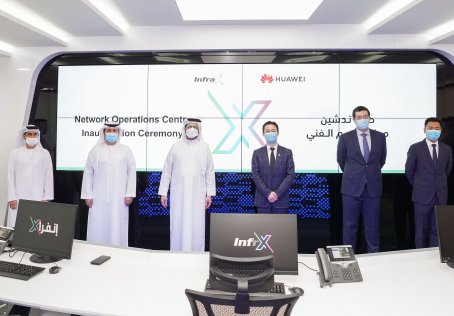 Together with digital transformation partner Huawei, HE Saeed Mohammed Al Tayer, MD and CEO of Dubai Electricity and Water Authority (DEWA), has recently inaugurated the InfraX Network Operations Centre, a wholly-owned subsidiary of DEWA.
InfraX currently owns a secure, independent, and super-fast fibre optics network that meets the smart and the future applications of the Fourth Industrial Revolution.
The ambition behind the Network Operations Centre (NOC) is to enhance the smart services offered through its large-scale optical fiber network, which already provides local enterprises in energy, transportation, education, healthcare, finance, and more, with new avenues through which to accelerate their digital transformation plans.
The NOC will also explore the development path for future network evolution in Dubai. While enabling service-oriented network customisation, the Network Operations Centre will offer enterprises a more flexible and intelligent technology-verification platform for new applications dependent on cloud computing, artificial intelligence (AI), and virtual reality (VR).
HE Saeed Mohammed Al Tayer said, "The InfraX Network Operations Centre is the result of our strategic partnership with Huawei, a global leader in ICT solutions. This centre supports the directives of His Highness Sheikh Mohammed bin Rashid Al Maktoum, Vice President and Prime Minister of the UAE and Ruler of Dubai, to anticipate and shape the future. The Centre will be a valuable addition to the digital infrastructure of the UAE, by using DEWA's fibre-optic network as a secure, reliable, and super-fast means of increasing efficiency and performance. These accord with the vision of our wise leadership, and the future needs of the Fourth Industrial Revolution."
On Huawei's part, the firm's president Charles Yang said, "Along with our partner, DEWA, we are focused on supporting the UAE's government policies to activate digital transformation across all industries to boost efficiency and support growth. Enabling new industrial applications that are digital-first will contribute to the development of the nation, and encourage the expansion of the Internet of Things (IoT), artificial intelligence (AI), and smart grid solutions within the UAE."
Huawei, one of DEWA's strategic ICT partners, will use cutting-edge wavelength division multiplexing (WDM) transmission technologies to provide comprehensive solutions for the transmission networks. In addition to InfraX, DEWA will continue to work with Huawei to promote a new digital future for Dubai in key areas that align with DEWA's objectives in the Dubai 10X initiative, as well as UAE Vision 2021. The partnership includes a number of future projects involving big data management, perimeter and ICT infrastructure security, cybersecurity, and information security, among others.