The Abu Dhabi Department of Health (DoH) has launched an official website to inform the community about new coronavirus, COVID-19, outbreak.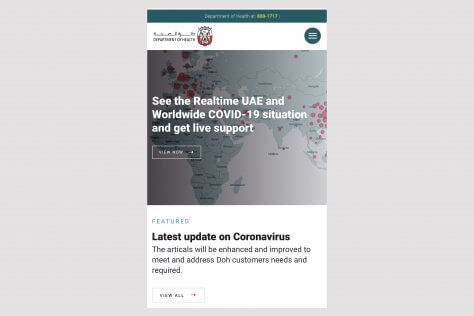 In a Twitter post, Abu Dhabi DoH said the site "includes interactive features, updates from official sources, and answers to related queries.
Developed by UAE-based artificial intelligence services firm, Saal.ai, the website will feature real-time UAE and worldwide COVID-19 situation and latest updates.
The website will show details such as the total number of people affected by the novel coronavirus, as well as the number of people who have recovered from Covid-19 worldwide.
It also It will also feature an advisor that will allow users to pose questions to authorities on the disease, and a map of the most affected areas around the world.
.@DoHSocial launched an official website to inform the community about Coronavirus 'Covid-19'. The site includes interactive features, updates from official sources, and answers to related queries pic.twitter.com/xrQY6c1yuw

— Abu Dhabi Government Media Office (@admediaoffice) March 11, 2020