Cloud computing has been an integral part of enterprise IT systems for many years now.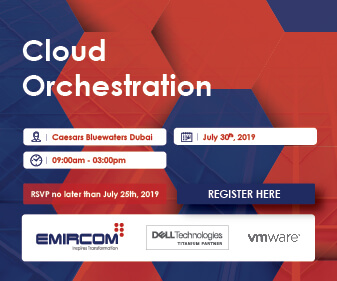 Technologies around the cloud whether it by public, private or hybrid, enables organisations across multiple industries to streamline operations as well as lower their capital costs, and day-to-day expenses.
This is why cloud orchestration continues to be a primary, albeit elusive, goal for the enterprise.
As the need for more dynamic and adaptable infrastructure grow, organisations will increasingly seek for solutions that will allow them to manage multiple workloads, in an automated fashion, across data centres and multiple cloud environments, while optimising a single workflow.
This makes cloud orchestration solutions and services attractive for businesses who want to achieve enhanced accuracy, reduction in the time consumed for manual tasks, heavy workload management, and increased business opportunity.
To shed light on the challenges and opportunities in the ever-evolving cloud era, Emircom, together with Dell Technologies and Vmware, is hosting a workshop focused helping Middle East organisations realise the potential of cloud orchestration in transforming IT processes.
Set to be held on 25th July at Caesar's Bluwaters, Dubai, the event promises to deliver insights on how regional firms can succeed in the multi-cloud era. It will feature top insights from Dell Technologies, Vmware and Emircom.
To register, please visit the link below: