Getting clear views over a large area – such as a major traffic intersection, a warehouse, or a parking lot – isn't always a simple task. It typically calls for multiple cameras and extensive cabling to be installed at a variety of locations, in order to cover the entire field of view.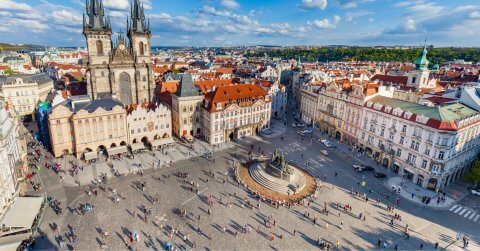 But when it comes to installing hardware, the requirements can differ widely from one scenario to the next.
At Hikvision, we take these requirements and so much more into account. Our range of security solutions not only help customers increase their on-site security with complete coverage, but add value with components that simplify their day-to-day security and business operations. These include Hikvision's PanoVu Series Panoramic Cameras, Ultra Series PTZ Cameras, and Fisheye Cameras, as well as the newly released line of TandemVu PTZ Cameras.
Flawless panoramas with extraordinary imaging
In large open sites like sport stadiums, plazas, and intersections, common security challenges are often about the large security scale, which requires several cameras to cover all corners of the view. This results in increased costs and difficulties in deployment. On the other hand, a large scene also indicates a need for HD images, so that security operators can enlarge the imaging to see details.
Thanks to the company's advanced image stitching technology, PanoVus stitch images together to generate a single, seamless panoramic picture with 180° or 360° coverage, allowing security operators to enjoy a vivid and consistent viewing experience that's more true-to-life.
Pan, tilt, and zoom at any moment
In some cases, security coverage in critical areas becomes primary. When events happen, it is important to view the close-ups with high-definition detail.
One advantage of PTZ cameras is their automatic patrolling capability. That means security operators can set rules for the cameras to monitor needed areas with defined duration, frequency and timing, to name a few. Additionally, Hikvision's Ultra-Series PTZ Cameras feature ultra-high optical zoom – 42x, for example – to cover expansive areas. That allows security operators to zoom in on an object which is farther away, ensuring clarity in the details.
The Ultra Series cameras' night vision capability is also stunning, as they incorporate Hikvision's signature DarkFighter low-light technology which enables excellent HD images to be captured in light conditions down to 0.0005 Lux.
Big picture and small details in one view
There are also situations where a security view with wide-angle coverage needs to be maintained at all times, yet close-ups are needed for awareness if an incident occurs. An example can be a busy outdoor parking lot at a shopping mall.
By using Hikvision's new TandemVu PTZ cameras, facility managers can now maintain focus on both "viewpoints" simultaneously – monitoring large areas for overall situational awareness and zooming in on specific incidents for event management.
When smaller areas need complete coverage
In places with less space to cover, such as retail stores and meeting rooms, complete coverage with situational awareness is often the first security priority. Therefore, a vertically-oriented view from the ceiling to the floor provides better coverage of a whole area. Fisheye cameras play their best roles here.
Hikvision Fisheye Cameras are among the most sophisticated on the market today. Featuring top-of-the-range Immervision lenses, they deliver a wider angle of view, less distortion, and sharper, more detailed images than many other cameras on the market, which results in more natural images once they have been dewarped.
Incorporated with deep-learning-based AI applications such as heat mapping, intersection flow analysis, and people counting, Hikvision fisheye cameras empower users with a wealth of data for business analysis, reporting, and smarter decision-making.
Efficient centralisation
All these devices and technologies need to be managed, and this is where a powerful VMS like Hikvision's HikCentral Professional comes in. Security operators can view real-time information via HikCentral Professional video management software, cruise around in panoramas, or zoom in and out.
Secure more with more assurance
Hikvision strives to help professionals from many walks of life stay confident and assured with future-shaping technologies, just as our advanced cameras address security challenges in protecting large sites and open areas. Apply for a smart trial today for a hands-on experience with Hikvision's high-performance products – now guaranteed with a 5-year warranty! Also visit our website to learn more. You can further explore the Hikvision digital showroom for complete Hikvision product lines, core technologies, scenario-based solution packages and more.