Global online fresh fish and meat store FreshToHome.com has announced that it is set to invest AED 50 million in the UAE and Saudi Arabia over the next two years, creating 1,000 jobs, as the company formally launches operations in the UAE.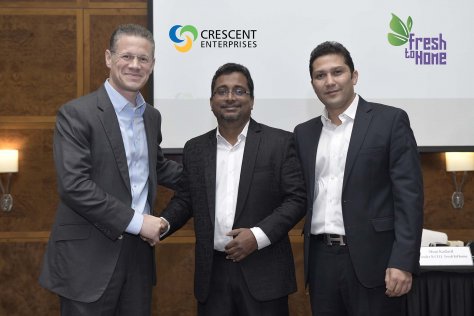 FreshToHome's regional expansion is being supported by CE-Ventures, the corporate venture capital platform of UAE-headquartered multinational company Crescent Enterprises.
Founded in 2015, FreshToHome.com is the world's largest e-commerce platform for fish and meat, serving 1 million customers across Bengaluru, Mumbai, Pune, New Delhi (and the National Capital Region), Chennai and parts of Kerala, with 45,000 orders per day. Following a "soft launch" in the UAE a few months ago, FreshToHome.com has seen rapid acceptance for its business model, and is already making more than 1,000 deliveries per day across the country, placing it among the top 5 e-grocers in UAE.
The planned investment announced today will support infrastructure development and user acquistions, including backward integration on farming, with FreshToHome acting as a microfinacier to fishermen and farmers, and working closely with them to deploy the latest technoliges to increase yields. The company currently has a food processing and storage facility in Umm Al Quwain, with a production capacity of 30 tonnes a day, and it is looking to add another facility in Dubai.
Shan Kadavil, CEO and Co-Founder, FreshToHome, said, "FreshToHome.com's value proposition of offering 100 percent fresh fish and meat direct to your doorstep, free of added chemicals and full of flavor, has already resonated well with the UAE's discerning customer base, who want quality and convenience, but in a responsible manner keeping sustainability at the heart of our direct farm to fork sourcing. With the support of our investor base, including lead investor in the Series A funding round CE-Ventures, we are investing heavily in the GCC market, and we aim to be the largest e-commerce fish and meat retailer in the region differentiated by quality and range of the products that we offer.
"Our UAE operation has already proven to be a huge success, representing our fastest-growing market. UAE is a haven for food lovers and the demographics are ideally suited to our business operations. We see the country as the perfect platform to develop our business and launch operations in other GCC countries, especially Saudi Arabia."
While FreshToHome.com sources most of its locally available fish from the UAE coasts, its commodity exchange sourcing platform enables the company to reach a network of more than 1,500 farmers and fishermen across the world, thereby differentiating in the range and quality of products offered to its customers.
By using predictive analytics, machine learning and artifical intelligence, FreshToHome.com can disintermediate the supply chain, cutting out middlemen and reducing wastage; farmers and fishermen  offer their produce directly through a smart-phone based app, enabling delivery times to Dubai within 18 to 24 hours from catch even from remote coasts in India via air transport.
FreshToHome.com also leverages a number of innovative technology solutions, including machine learning and computer vision, to ensure it can deliver fresh, chemical-free seafood, poultry and other meats to customers, with no antibiotics or preservatives. Produce is transported through a temperature-controlled supply chain, to avoid bacterial contamination with Internet of Things (IoT) sensors allowing remote monitoring at every stage, including vehicles, cold rooms, processing halls, delivery points, and even the bags to the end-customer. These innovations give FreshToHome.com wastage rates of below 1.5 percent, compared with an industry average of 15 percent.
The company continues to invest in research and development in new technology solutions; through its FreshToHome.com Labs, it is exploring adding new fresh products, and is experimenting with a milk delivery vertical model.
CE-Ventures has so far invested over USD 100 million in high-growth companies across a range of domains, including supply chain tech, medtech, foodtech, edutech and emerging enterprise SaaS technologies. The corporate venture capital platform provides stategic guidance, market access and insight, and high-impact business development, with a number of its portfolio companies working with CE-Ventures on launching operations in the MENA region.