Samsung Gulf has launched the Galaxy Z Flip, which was engineered with first-of-its-kind foldable glass, during an exclusive event in the UAE.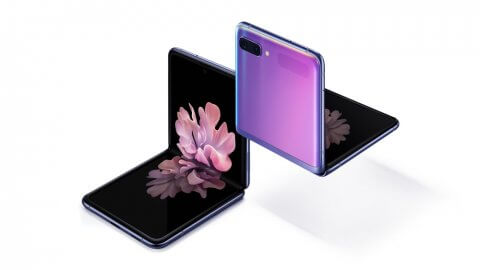 The device bends the laws of physics, and features a 6.7-inch display that folds into a stylish and compact form factor that fits in the palm of your hand, according to Samsung.
Designed with an innovative Hideaway Hinge and custom-built UX, Galaxy Z Flip provides elegant new ways to capture, share and experience content.
"Galaxy Z Flip delivers a trend-setting style statement in a first-of-its-kind device that offers a convenient and versatile foldable experience," said Osman Albora, Head of Mobile Division at Samsung Gulf Electronics. "We're excited to showcase this product in the UAE market, and look forward to Galaxy Z Flip shaping the future of fashion through a unique combination of stellar technology and spectacular aesthetics."
Galaxy Z Flip's compact, stylish design is created for those who see technology as a way to express themselves. And all of the innovations that go into Galaxy Z Flip ensure they can do so.
According to Samsung, the device is designed for ultimate portability. The Galaxy Z Flip folds into the size of a wallet, so users can easily fit it in their pocket or bag. When closed, it is a stylish, compact palm-sized device.  When opened, its screen size nearly doubles to reveal a 6.7-inch display. With its stylish colour palette, sleek rounded corners and forward fold that closes with a satisfying snap, Galaxy Z Flip is sure to turn heads.
Galaxy Z Flip features an Infinity Flex Display with Samsung's proprietary bendable Ultra Thin Glass (UTG), making it slimmer with a sleek, premium look and feel that has never been seen with a foldable device before.
The centered in-display camera cutout at the top also means there's no notch and no distractions, with Samsung's first-ever 21.9:9 ratio, so users can enjoy even more of their favorite content such as cinema-ratio 21:9 shows and movies.
Finally, the Galaxy Z Flip's Hideaway Hinge is backed by a dual CAM mechanism, which was sophisticatedly designed to ensure every flip and fold is smooth and stable. Galaxy Z Flip can stay open at a range of angles, like a laptop screen. The Hideaway Hinge system also integrates Samsung's new sweeper technology, which uses nylon fibres crafted by micro-height-cutting technology to repel dirt and dust.
The Galaxy Z Flip is available across major retailers in the UAE in Mirror Purple and Mirror Black for AED   5,499.
Mirror Gold colour is currently available online, and will be available in stores starting March 13th.