GITEX Future Stars, the Middle East, North Africa and South Asia's most influential startup event, is launching GITEX Future Stars.virtual, the all-new series of webinars that will cover the most pressing issues facing technology startups.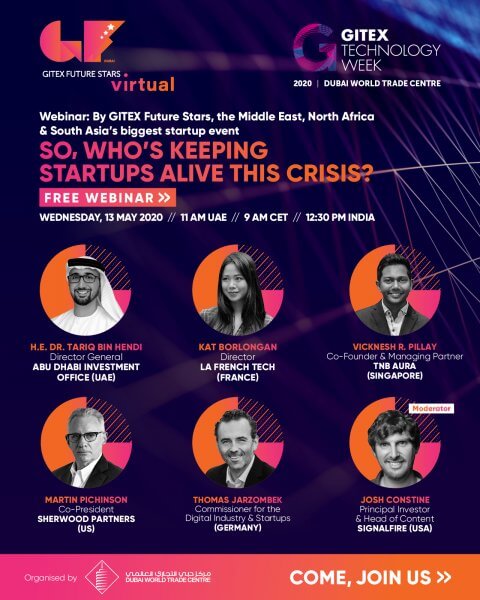 The first webinar in the series will take place on Wednesday 13th May at 11am UAE time (9am Central European Time, 12.30pm India), and will discuss how the startup community can safeguard the heartbeat of innovation in the new reality of the COVID-19 pandemic. The first webinar will open the dialogue on what the world is doing to ensure startups survive amid a series of challenging market conditions.
The global tech startup ecosystem is not only crucial for advancing innovation, but is also an essential source of job growth, creating millions of new jobs every year, with $294.8 billion invested in venture capital deals in 2019.
However, that level of investment is not certain to continue. With Chinese venture capital deals having contracted more than 50 percentage points since the onset of the COVID-19 pandemic, up to $28 billion in startup investment could disappear in 2020 if the same trend is replicated across the world for just two months.
GITEX Future Stars.virtual will explore worldwide best practices from public policy and private sector measures that have had a positive impact, as well as delivering actionable advice to founders and investors on what to expect in the coming months and how they can mitigate risk. In
Speakers for the first GITEX Future Stars.virtual webinar include Dr. Tariq Bin Hendi, Director General, Abu Dhabi Investment Office, the fund which offered $16.3 million in startup and VC investments in February to grow the Emirate's innovation ecosystem; Thomas Jarzombek, Commissioner for the Digital Industry and Startups, Germany, who leads the country's government-startup collaboration; Kat Borlongan, Director, La French Tech, the French government-led taskforce built to bolster France's startup sector which has allocated €4 billion to startups affected by COVID-19; Martin Pichinson, Co-President, Sherwood Partners, Silicon Valley's leading startup restructuring firm; and Vicknesh R. Pillay, Co-Founder & Managing Partner, TNB Aura, the VC firm giving $2 million to selected startups affected by COVID-19 in South East Asia.
The discussion will be moderated by Josh Constine, Principal Investor and Head of Content, SignalFire, also former Editor-at-Large at TechCrunch.
To tune into the live discussion on Wednesday 13th May at 11am (UAE time) and to submit a question to the panelists, register here.