Amer Khreino, CEO at Raqmiyat highlights the importance of Expo 2020 for the country and how Raqmiyat is planning on driving further success for their customers in 2020.
Give us a brief overview of some of the highlights at your company in 2019.
Raqmiyat continued to lead with diversity. Our revenue enjoyed a YoY growth of 25 percent with more balanced business across our three business units – these cover Digital, Financial Services, IT Staffing & Managed Services. During 2019, tremendous pressure was exerted on the business, due to major consolidation in the government and financial sectors in UAE that pushed companies to do more for less, hence needed to run tight operating policies to protect our operating profit, without scarifying the customer experience and satisfaction. During 2019, Raqmiyat continued to be a preferred partner to many of the federal and local entities, local and international banks, as well as strategic accounts within the education, healthcare, oil & gas, utility and telecommunication sectors. Our business retention rate was almost 100 percent with many new acquisitions, especially in the digital arena.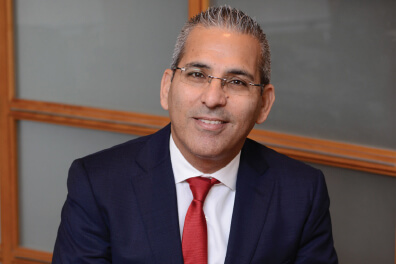 Which technologies do you think will take centre stage in 2020?
Many of the new disruptive technologies are being welcomed and adopted by our customers. Cloud is leading by a good margin as many international companies are opting to have their regional data centres in UAE and GCC, hence minimising the concerns on data protection while also assuring higher regulatory compliance. AI is being integrated into many business applications to improve visibility and predictability and enterprise mobility is transforming the workplace & business on-demand. Moreover, IoT will also witness a big leap, as more things get smarter at work, at home and across our communities.
The following year marks the beginning of a new decade. How should organisations transform their strategies to cope with the new technological evolution? What role can your organisation play in this evolution?
The 4IR is impacting many critical aspects of our lives during this decade that need to be accommodated in our plans and strategies. Economic growth, innovation and the future of jobs are critical matters that were identified by the Economist Corporate Network (ECN) and Cisco MEA during a roundtable discussion in April 2019. Embracing and improving innovation through acquisition of start-ups, focusing on areas that matter to customers and building business value through the adoption of these new technologies are critical aspects in developing good business in this decade.
What opportunities and challenges will the upcoming Expo 2020 in Dubai bring to regional players?
In the UAE, the year 2020 has more meaning than to many across the world – it's a long-awaited year since the launch of Expo 2020 project back in 2013. The opportunities are vast, and Dubai can demonstrate its excellence built over decades in organising and managing mega-events, as GITEX, Arab health, The Big 5, Gulf food and others. Higher economic growth is anticipated, with hundreds of businesses making UAE their home with a faster pace across many sectors. Yet, geopolitical challenges remain strong and may impact the sentiment to invest and flourish.
How do you aim to support regional organisations to take advantage of the opportunities that the Expo 2020 will bring?
Raqmiyat offers its consultancy, implementation and managed services to regional organisations coming to UAE – their only mission will be on focusing on their core business, success and growth.
What is your primary business objective for 2020?
We have set three main objectives for 2020, related to our business strategy. Our first one is to continue protecting our base with more aggressive up-selling and cross-selling. We have re-structured our GTM strategy to be more BU centric to meet this objective. Our second objective is to accelerate our adoption of the new- digital, focusing on products and services that most matter to customers, including digital banking, business automation and business excellence, amongst others. Third, is to expand our Managed Services, to allow customers to focus on their core business and growth.
How can partners emerge as profitable players in the new year?
The secret to driving profitable business remains in developing the right plans and approach, time-to-market, diversity and building customer value. The management is responsible to substantiate the shareholders' value by increasing the free cash flow, to allow invest in expansion, M&A, product development, while lowering company's debts. Striking a balance between make/ busy will continue to play a vital role in minimising fixed cost and CAPEX, hence improving return of assets and capital deployed.