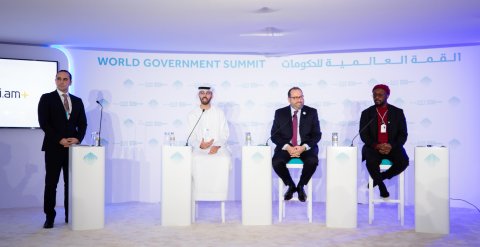 Regional retail conglomerate Majid Al Futtaim and I.AM+ have announced that the AI-powered Omega platform will be rolled out for the first time in English and Arabic through the retailer's Carrefour and VOX Cinemas brands in the Middle East. The Los Angeles-based technology company, I.AM+, has chosen the Middle East as its English version launch market, following the partnership announcement with Majid Al Futtaim at the World Economic Forum, in January 2019.
Majid Al Futtaim said it will introduce the AI-powered voice assistant to its customers this year, enabling an entirely new level of experiential retail at various customer touchpoints when shopping for groceries or booking movie tickets. The I.AM+ Omega platform, customised for Majid Al Futtaim customers, will engage consumers in localised conversational and contextual style interactions, available in English and Arabic, delivering deep cross domain knowledge for a seamless customer experience.
The announcement was made at the seventh edition of the World Government Summit in the presence of Omar bin Sultan Al Olama, UAE's Minister of State for Artificial Intelligence.
"Being home to the global launch of Omega as part of the Majid Al Futtaim and I.AM+ partnership, further showcases our commitment to the Strategy for Artificial Intelligence under which we aim to position the UAE as a leader in the field of AI adoption in various sectors, and create a new vital market with high economic value. We provide our full support to such initiatives that advance the agenda and vision of Smart Dubai 2021 and we look forward to celebrating the success of this partnership in due course," Al Olama said.
With an average of 33 apps installed on smartphones, research indicates users only use three apps 80% of the time. Command driven, non-conversational technologies lead to lower usage rates and poor retention. The I.AM+ Omega platform will address a rising gap between what consumers want from their smartphone applications and the current level of satisfaction that they experience, according to the firm.
Alain Bejjani, chief executive officer, Majid Al Futtaim Holding, said, "We continue to implement cutting-edge technologies within our business to ensure that we are creating ground breaking experiences. Our partnership with I.AM+ indicates our commitment to pushing customer-centric solutions and ensuring that people in our region experience the true potential of AI and the opportunities of voice technology. We are excited to bring to life the Omega platform across our brands this year."
Founder and chief executive officer of I.AM+, will.i.am, said, "The UAE is at the forefront of AI adoption and entrepreneurship so it's a perfect location for the first bilingual version of Omega to be introduced globally. We recognise tremendous potential in this region as it holds one of the highest internet penetration levels in the world. Majid Al Futtaim is the leading lifestyle conglomerate across the region and is the ideal partner given the common vision we share to use technology for better human experiences.
Omega's voice computing technology understands context and is proactive in anticipating needs based on historical data. The technology is designed to support simultaneous multi-tasking use that combines features extracted from different modalities such as text, audio and image, allowing for seamless fusion of voice and user interface across multiple devices. Another differentiating factor for the Omega platform is the privacy and customer data protection the technology enjoys, said the firm.