Dubai City FC have fundamentally reshaped the footballing landscape here in Dubai since launching its operations in September 2017.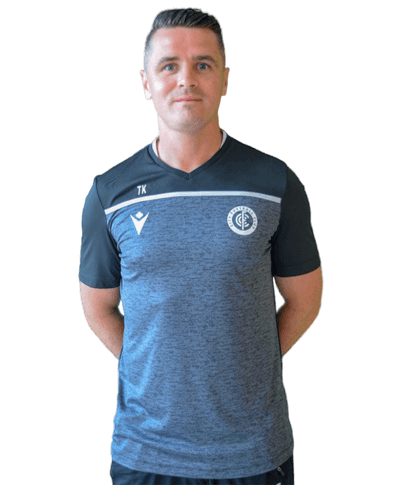 The club has fostered an environment which is allowing talented young footballers to pursue their dreams of becoming full-time professional footballers and University Scholars.
The club was co-founded by former Aberdeen FC player Terry Kidd, and his ability to assemble a first-class coaching team has enabled the company to ascend to the top of the footballing pyramid here in the UAE and become the go-to club for aspiring footballers.
Kidd is ably assisted with a plethora of experience and knowledge and took the opportunity to highlight and commend the dedication and excellence his team have all invested into converting the on-pitch programming to the region's most innovative and user friendly; two-way program available.
"The workload and responsibilities have changed significantly at the Club for all the entire coaching team and for me has once again highlighted why we have the best and most dynamic team of coaches in the region. A huge thank you to former Bolton and Southampton coaches Mason McClelland and Sam White who bring a wealth of experience from coaching in full-time environments back in the UK. All their technical and tactical work is then perfectly complimented by the expertise of S&C coach Kevin Fitzsimmons which helps them deliver the ultimate footballing program," said Kidd.
Former English FA coach educator Adam Burrows and Josh Allison have since adopted their day to day roles as Head of Football Operations and Foundation Lead to now run all digital and software related aspects of the program.
Coaches Lee Bennett and Mark Willis; both previously from Bolton and the English FA are driving the social corner of the Clubs output to ensure a robust and unified community remains fully intact-ready for our return to the grass.
Unfortunately, due to the ongoing global COVID-19 pandemic their programs have been severely disrupted.
However, innovation is in the DNA of this dynamic young company, and they have developed the perfect digital program which will ensure that their young starlets maintain their technical competency during this crisis.
The brilliant new program has been called Inner City, but what is it and more importantly what does it entail?
Director of Dubai City FC Terry Kidd explains more, "Inner City has been a long time coming. The inception of Inner-City TV on Instagram was the start, and during the last 12 months the club has been constructing a syllabus of work that can be fully interactive for any young football player to work alongside. With the current situation we all find ourselves in, we are excited to accelerate the concept and produce a product we are very proud of and excited to share with you."
Kidd added that City has partnered with a local tech company to ensure they deliver an interactive and immersive experience for their players.
"We've teamed up with online platform and application called 'My PT Hub' to offer our interactive program. Each player will have their own login to the app. We have our own specially designed bespoke platfrom that will host all the program content," said Kidd.
What does the program look like?
Technical Sessions: These sessions will cover all the techniques and skills we look for the players to develop throughout the season. Filled with ball mastery skills, dribbling, turning and receiving. All with a levelled system, aimed to help the player achieve the next level and showing constant progression. Every session on the platforms demands purposeful practice and high standards.
Tactical Sessions: Periodically the players will receive video clips, this could be of any CFC fixture (1st team down to U9) the player will be given a task to analyze the footage and report back with their understanding and ideas.
Strength & Conditioning Sessions: A database filled with new exciting work to aid the player's physical development.
Nutrition and Lifestyle: A continued profile of information for players to understand how to best support their physical development. This could include meal plans, help to understand their own body, psychology tasks and material to ensure active bodies and healthy minds.
Reviewing and Consolidation: One of the most important areas of every player's development, the review process. Consolidate, Monitor and Challenge are the 3 main pillars of the 2-way process. Video calls, both individual and group will help players adapt, learn and develop throughout the Inner-City process. Regular communication between coach and player, both ways, are an integral part to this interactive product.
Kidd conceded that the current situation has been difficult to deal with – but is fully confident that their new program can fill the void of not being on the pitch together in a hands-on capacity.
"The entire coaching and management team at DCFC miss the players and are focused immensely on our return to the pitch as a family, whenever that may be. However, we have kept our composure as a club to ensure that we continue to deliver the best in class programming for our players that is structured, progressive and purposeful," said Kidd.
Kidd acknowledged the support the club has received as they attempt to restructure their operations amidst the ongoing COVID-19 pandemic – and expressed how excited he was to undertake a new journey in these unprecedented times.
"As a young growing club and to ensure continuity and consistency for the long term as a Football Club we require everyone's full support and attendance for our unique and exciting term 3 ahead. Thank you all so much for your patience, understanding and most importantly support at this time. We are all feeling it, and together we can certainly help each other pull through. Please take care, stay safe and follow all protocol set out by the authorities," concluded Kidd.
If you are interested in availing of the benefits of this fantastic new initiative, then please contact City FC today for more details at INFO@DUBAICITYFC.COM