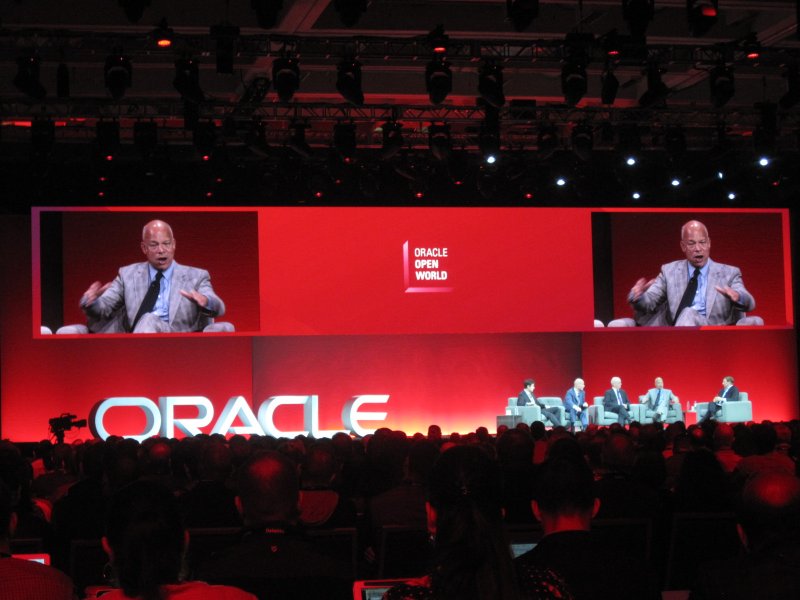 Machine learning and artificial intelligence will shift the balance against cyber-attackers by offering greater assistance to cyber defence efforts, Oracle's chief corporate architect has said.
At a keynote discussion at Oracle OpenWorld 2018 in San Francisco, Edward Screven suggested that technology would lead to a decisive shift in favour of defence, but warned that major companies could find themselves in the cross-hairs of geopolitical struggles in cyberspace.
"Machine learning and artificial intelligence is a more effective tool for defence than offence," Screven said in a session moderated by the Oracle CEO Mark Hurd.
"Because it's been easier to automate attacks, the spread out bunker [form of defence] doesn't work. But if you have a few strongholds you've got management control. I think it's far, far more secure."
Screven has held security-related roles at Oracle for two decades and said that, over that time, the nature of the security threat had evolved beyond recognition.
Where once it was unsophisticated phishing emails sent out by lone, poorly funded attackers, today the danger comes from well-funded criminal organisations or state-sponsored operations.
"Their motives are sometimes financial, sometimes political. Their motivations are sometimes to affect companies that are important," said Screven.
"We've had to build new technology and figure out ways to respond that aren't manual, that don't have long think times."
Speaking alongside Screven, Jeh Johnson, the United States Secretary of Homeland Security from 2013 to 2017, said that "cyberspace is really the new battlespace".
"We need to have as an international priority the defence in cyberspace," he said, adding that more use should be made of public-private partnerships in the defence of critical infrastructure.
In terms of wider security issues, Johnson, a former general counsel at the US Department of Defense, said that the western world had done a good job of dealing with terrorist threats from overseas.
However, he said a key vulnerability that was yet to be dealt with was the home-grown terrorism threat coming from individuals radicalised on the internet. He described such actors as being "increasingly tenacious and aggressive".
"We struggle to keep up. We've yet to turn that corner." he said.