At ESET Middle East's action-packed Security Days customer event, which took place at Shangri-La in Dubai, attendees had an opportunity to discover the cybersecurity leader's strengths and learn about its vast portfolio.
Dimitris Raekos, general manager, ESET Middle East kick started the half-day session by sharing the company's milestones over its 30-year history.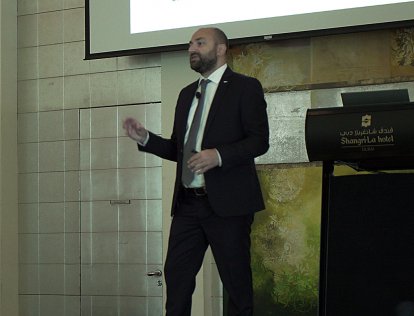 Attendees had a chance to know more about the evolving threat landscape and how ESET can play a vital role in enabling them to secure their enterprises in the digital era.
"There are a number of measures regional customers can adopt to ensure a robust security strategy," said Raekos. "The first and foremost step will be to deploy a reliable multi-layered solution. They need to ensure their data's backup is stored in an offline location or in a location that will not be affected by LAN infections."
He also urged customers to never pay for ransomware. "This will only further fuel the ransomware economy."
Explaining the dangers of ransomware and how it can cripple an organisation, Sameer Halawani, Technical Manager, said, "Every 40 seconds, there is a company hit by ransomware and 25 percent of these companies are enterprises."
Raekos then advised customers to ensure network configuration and segmentation while also constantly monitoring traffic and behaviours. "Users need to manage their passwords carefully and avoid having the same ones across applications. It is worthwhile to ensure a multi-factor authentication process to be better safeguarded against adversaries," he explained. "Enterprises need to invest in educating their employees on the consequences of security breaches and how simple measures can help avoid several incidents."
Halawani added that despite its ease of use "two factor authentication remains underutilised security measure in businesses."
Along with Halawani, Shabil Basheer, Presales Engineer, ESET ME elaborated on the firm's Security Management Centre and Threat Intelligence solutions.
Basheer said, "ESET Security Management Centre (ESMC) provides real-time visibility for on-premise and off-premise endpoints as well as full reporting for ESET enterprise-grade solutions from a single pane of glass securely deployed on premise or in the cloud."
Raekos also elaborated how ESET solutions can be effective for the current challenges in IT security, which includes ransomware, employee behaviour, targeted attacks and phishing, diversified landscape, lack of network visibility as well as inadequate workforce and skillsets.
ESET's technology alliance partners such as Safetica Technologies, GreyCortex and Xopero Backup were also present at ESET Security Days event.
Peter Zikes, CEO, Safetica Technologies, said, "The most frequent causes of data leak are human error, problems in processes and disgruntled employees."
Further into the forum, ESET GM Raekos shed light on the myths and realities around machine learning. He discussed the security gaps in machine learning and how customers should be aware about these scenarios to be able to take appropriate measures.
The audience also had a chance to understand the implications in the Middle East of the recently implemented GDPR regulation at the session.
"We want to transform our company from just being a supplier of software to a supplier of security services," said Raekos. "Our vision is to become a trusted IT security partner for the enterprise space by providing cutting-edge technology and knowledge that integrates with and enables key areas of security, and by offering top quality security and professional services."