CPI Industry's webinar, 'Smart HVAC Systems' to highlight the COVID-19 pandemic as catalyst in hastening the shift to remote monitoring of buildings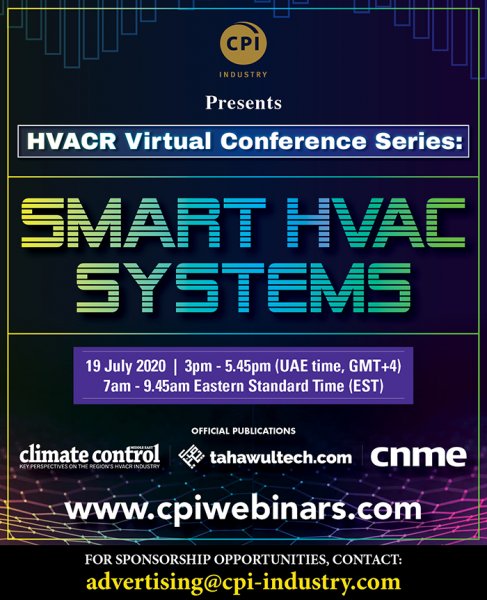 The COVID-19 pandemic has given an existential dimension to tech-buzzwords like artificial intelligence (AI) machine Learning, IoT and data analytics in the context of building performance for better reliability, energy efficiency and indoor air quality. Social distancing, enforced by COVID, is proving to be a catalyst in hastening the shift to remote monitoring and diagnostics of buildings and predictive maintenance through incorporating smart HVAC systems in buildings.
Indeed, remote connectivity in asset management is indispensable in a new world order, including in a post-COVID scenario, so we are ready, if and when the next pandemic strikes.
The sentiment of being prepared is gaining ground, and the ramifications are significant. It is being acknowledged that we need a transformation in the way we think and approach structural, civil and MEP works to make substantial provisions for future scenarios similar to COVID. And it covers software as much as it does all building performance equipment.
'Smart HVAC systems', the next in the HVACR Virtual Conference series, by CPI Industry, promotes a wide range of aspects for discussion. The webinar, on July 19, is widely being viewed as critical to effectively operating our buildings in quite the new world order.
"COVID-19 is profoundly reshaping thinking on how we ought to run our buildings," said Surendar Balakrishnan, Co-Founder and Editorial Director, CPI Industry. "Even prior, there was growing realisation that a set-and forget approach was no longer acceptable in building maintenance. The menace of the Novel Coronavirus has firmly nudged us towards remotely executed operations, complemented by centralised platforms and mobile apps, for real-time HVAC performance data. Today, there is greater conviction that smart HVAC systems can infuse building operation and maintenance requirements with agility, predictivity and responsiveness."
The webinar will as much examine the over-arcing issues as it will the specificities. Among key granular topics are:
Do All-Over-IP networks score over field bus systems in opening up better possibilities for the development of smart buildings?
Why we need to give serious attention to maintenance of fully automated control systems. And why building managers and FM teams need to ramp up on thinking and approach.
Re-skilling of FM teams to bring them up-to-date on fully automated control systems, and the financial modelling involved in providing training and constant capacity-building.
Cybersecurity: Why regular updates, patching and vulnerability assessment protocols and practices are vital for the wellbeing of automated control systems in buildings. And why it is important they are implemented by cybersecurity and IT experts.
The webinar is of significant interest to CIOs, IT directors and managers and to others in the IT sphere across multiple sectors, including healthcare, hospitality, aviation, malls, education and other commercial real estate spaces, in addition to those organisations holding structured residential asset management portfolios.
Smart HVAC Systems will take place on July 19. For more details, contact:
For further details, contact:
Alakananda Ghose
Strategic Public Affairs Liaison & Events Manager, CPI Industry
GSM: +971 55 764 92 27
E-mail: alka@cpi-industry.com