stc group CEO Nasser bin Suleiman Al-Nasser called on large companies to adopt transformative plans to promote innovation through artificial intelligence (AI), and to develop solutions that aim to support the growth of sectors while reducing the costs in each of them.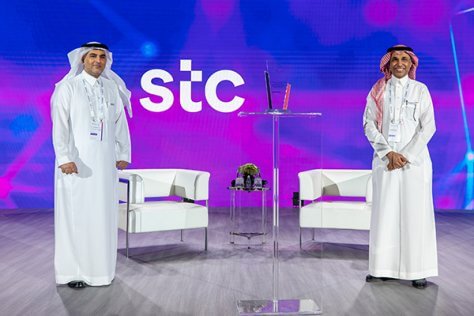 During his participation at the recent Global Summit on Artificial Intelligence, organised virtually by the Saudi Data and Artificial Intelligence Authority (SDAIA), Al-Nasser pointed out that stc relied on various AI technologies that serve customers and the group in order to improve efficiency and create better experiences for customers and thus contribute to increasing revenues and reducing costs.
Al-Nasser's words came during a discussion session on planning for the age of artificial intelligence. After the session, Al-Nasser was honored by the head of SDAIA, Dr. Abdullah bin Sharaf Al Ghamdi, in recognition of stc's participation in the World Summit on Artificial Intelligence as a digital sponsor.
In the same context, stc announced the launch of an Advanced Cloud Based Data Analysis Laboratory through which big data and predictive analysis as well as AI innovation can be analysed by providing an integrated structure that supports the use of advanced methods and techniques that support open sources.
The laboratory is also characterised by its ability to process an enormous amount of data in a short time and provide a suitable environment for collaborative work with several different users and bodies.
This advanced structure will allow the development of various projects, cooperation opportunities and partnerships locally and internationally. These would include datathons and artificial intelligence innovation competitions, in addition to cooperation opportunities with external governmental and private parties aimed at enabling research and development in the field of data analysis. The launch of the laboratory comes after the announcement of a partnership with Nvidia to launch a cloud solution for in-depth learning aimed at enhancing stc's role as a leading digital enabler of Saudi Arabia's digital transformation, which comes in line with the objectives of the second phase of the company's "Dare" strategy and the objectives of the 2030 Vision.
The launch of the Data Analysis Laboratory by stc is the first initiative of its kind in the Kingdom. It will help create a cooperative environment for the analysis of big data and the development of artificial intelligence models with all the local, regional or international partners, whether they were academic or research entities. It will do so through the Laboratory's advanced capabilities that will provide creative and innovative opportunities in the various fields where AI is implemented and help deal with big data to serve multiple fields.It will also contribute to strengthening the Kingdom's competitive position and improving the development of local capacities by enabling various initiatives to serve the Kingdom's data society, such as the development of young Saudi skills inside and outside the company.