First virtual conference Russia-UAE Technology Day to be held on the 23rd of June, 2020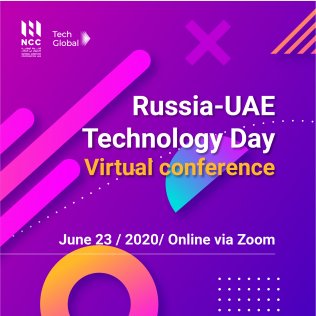 The virtual conference is being organised by Tech Global (Rosinfocominvest JSC), the first Russian state-owned sectorial investment fund in the sphere of ICT and the international integrator supported by Ministry of Digital Development, Communications and Mass Media of the Russian Federation, and National Computer Corporation UAE.
The main goal of the conference is to familiarise partners from the UAE with competitive Russian technologies, products, and solutions that can work for the development of digital economy, technology transfer, and digital transformation of the country.
Participants from the Russian side include the Ministry of Digital Development, Communications and Mass Media of the Russian Federation, Tech Global (Rosinfocominvest JSC), main Russian ICT vendors with solutions in cybersecurity, telecom, Smart Cities, eGovernment, and oil & gas industry. The local partner and co-organiser of the virtual conference is National Computer Corporation UAE.
Participants from the UAE side include different government authorities, public and private companies, interested in Russian technologies, including Telecommunications Regulatory Authority (TRA), the government entity responsible for regulating the telecom sector and enabling smart transformation in the UAE.
"We are holding Russia-UAE Technology Day to present capabilities of Russian solutions, help Russian companies to identify the most demanded products and business models in UAE, build partnerships between the local and Russian ICT companies, develop B2B and B2G roadmaps for further cooperation and investment," said George Mikaberidze, CEO of Tech Global.
"The situation with COVID-19 in the world has shown the value of relationships and communications. We are strong when we have partners and we can build communication with them. Quick transition of standard activities to online will allow us to improve communication and maintain a warm relationship with partners. I am very glad that we were able to organise the first Russia-UAE Technology Day and, thereby, continue the exchange of experience and innovations between Russian and UAE companies," said Kristina Tantsyura, General Manager of NCC UAE.
Russia-UAE Technology Day will be organised into four working sessions – Governmental Session, Municipal Authorities & State-Owned Companies Session, Infrastructure & Telecommunications Session, Corporate Session. The round table discussions on "How does COVID-19 affect ICT industry?" and "What are the right ICT solutions to overcome the crisis issued by COVID-19?" will be held in the final part of the event.
Tech Global and NCC UAE are expecting that the event will be interesting to participants from the UAE. A number of innovative projects of recent years, which took place in the Russian smart cities and the largest oil & gas companies, can be considered as relevant references for their implementation by the Emirates' organizations. In case of demand for such solutions in UAE, Tech Global is ready to help with the launch of the project with Russian and local participants.
Registration on the event: https://tech.global/bm2020