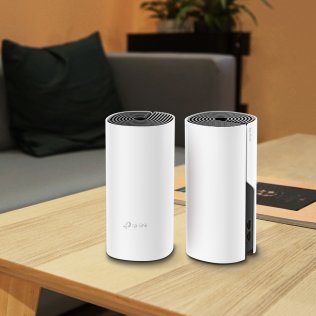 TP-Link has announced the launch of the whole home mesh Wi-Fi System with a renewed look – Deco M4, the newest addition to the brand's lineup of mesh solutions. Unlike the previous disc-shaped products (Deco M9 Plus, Deco P7 and Deco M5), Deco M4 is an "affordable column-shaped product that provides the AC1200 whole home mesh Wi-Fi, which is ideal for medium houses." Currently available as a two-unit multi-pack, the Deco M4 whole home mesh Wi-Fi system can be purchased from leading entertainment, lifestyle and other retailers both online and in stores, said the company. 
Deco M4 is comprised of a system of two units that can be customised to fit Wi-Fi coverage needs to up to 2,800 square feet. With additional units, the Deco M4 system can be easily scaled up to accommodate even larger spaces. Phones and tablets automatically switch to the fastest Deco as customers move through their home.
The dual-band AC1200 system is capable of throughput speeds of 300Mbps on the 2.4GHz band and 867Mbps on the 5GHz band—and it supports MU-MIMO data streaming. Deco M4 utilises Adaptive Path Selection (APS) to ensure the network is always operating at top speeds, quickly identifying and selecting the fastest path for devices to connect to the network. With network speeds three times faster than the previous generation routers, thanks to 802.11ac wireless technology, Deco can provide lag-free connections to up to 100 devices, said the company. 
The Deco app walks the user through every step with clear directions and simple visuals, making setup fast and easy, according to the vendor. It also allows users to completely control and manage their network from the palm of their hands. Customers can easily limit and monitor Internet use and even pause the Internet for an individual family member or the entire home. 
Simple, intuitive parental controls allow to manage and monitor access of network services for children by time allowance, even when parents are not home. Monthly usage reports are automatically sent to the phone to keep customers apprised of activity on their network.
Deco M4 is capable of acting as a router or access point now. Range extender mode will be available in a Deco M4 in the next published firmware version, said the company.