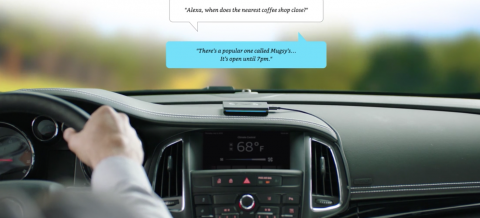 The tussle for in-car infotainment is heating up. The past weeks have witnessed a series of new announcements and upgrades.
Even as car makers are trying to salvage some cabin space with major tech players Google and Android with strategic tie-ups, Amazon has just jumped into the race.
Amazon has announced a series of new Echo companion products including the Echo Auto.
The tiny device that can be mounted on the dashboard can be connected to most car using Bluetooth to play music or an auxiliary input and connects to the internet using your smartphone's data plan.
The device is equipped with eight microphones designed for in-car acoustics and use your voice to play music, check the news, play audiobooks, podcasts, and connect to Google and Apple Maps.
Apple recently allowed easy access to Google Maps through Apple CarPlay thanks to the recent iOS 12 update.
Last week three major car makers – Renault, Nissan and Mitsubishi announced their partnership with Google to incorporate Android Auto into their vehicles. There are unconfirmed reports that Toyota is all ready to introduce Android Auto into its cars.
Meanwhile, drivers in the UAE will have to wait longer in-order to call out Alexa from inside their cars.
The Amazon Echo Dot is currently available for pre-order from Amazon's website.
But it is an invite only process and if you happen to be in the UAE, you are not eligible to apply for an invitation.
Introducing Echo Auto – the first Echo for your car. 🚙 Learn more: https://t.co/0UU7M7KTES pic.twitter.com/5BONRY0LkE

— Amazon Echo (@amazonecho) September 20, 2018
Invitees get a chance to obtain the US$49.99 device at a discount – for US$24.99 – to be shipped by the end of December. Amazon is expected to roll out the device to a wider market by early next year.