UAE-based tech start-up RIZEK has signed an MoU for cloud-computing service with Alibaba Cloud, becoming one of the first tech start-ups to collaborate with the cloud-computing subsidiary of the Chinese technology giant in the region.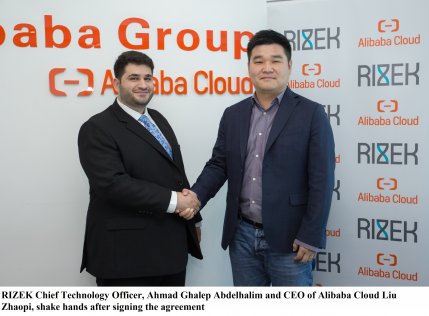 The MoU agreement signing took place at the Alibaba Cloud office in Dubai with senior executives of each organisation present at the signing.
Under the agreement, Alibaba Cloud will assist RIZEK in developing innovative solutions that will significantly enhance RIZEK's data analysis and user experience capabilities.
"Alibaba Cloud has the third-largest share of the global cloud computing market and the collaboration provides us with an ideal opportunity to use analytics powered by Big Data and AI technologies to better understand our customers and provide them with more tailored services," said Layan Barghouthi, chief experience officer, RIZEK.
Alibaba Cloud CEO Liu Zhaopi, said, "This is the first partnership of its kind with Alibaba Cloud in the region, we are honoured and proud to be partnering with a cutting-edge platform that is aiming to improve people's lives."
RIZEK Chief Technology Officer, Ahmad Ghalep Abdelhalim said, "a partnership with Alibaba Cloud will provide RIZEK with the required platform and technical expertise to enrich the user experience by implementing world-class solutions to their required services, allowing RIZEK a competitive advantage".