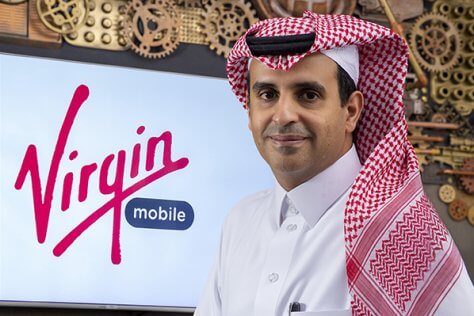 "Virgin Mobile" Saudi Consortium has announced the appointment of Eng. Yaarob Al-Sayegh as the company's first Saudi CEO.
With more than 22 years of experience in the Saudi telecommunications sector, Al-Sayegh will guide the delivery of Virgin Mobile's digital transformation strategy in support of Saudi Vision 2030.
Under the direction of Al Sayegh, Virgin Mobile will continue to play a pivotal role in the development of a world-class telecommunications experience to help unlock the potential of the kingdom's people and economy.
Growth for the nation's telecommunications space is central to Saudi Vision 2030, with an advanced ecosystem of technologies and providers serving to attract investment, diversify the economy, support the advancement of key industries and deploy new digital-based experiences through new and innovative services.
According to Virgin Mobile, the appointment of Al-Sayegh underscores its commitment to communities and businesses across Saudi Arabia. Creating jobs for Saudi citizens – and improving upon Virgin Mobile's impressive track record of female empowerment, are central to the new CEO's plans, alongside providing opportunities for internal and external Saudi Digital Talent to flourish.
The former Mobily senior executive also seeks to strengthen Virgin Mobile's unique portfolio of digital services with further product developments centred on customers' individual demands, and in particular, the needs of the local youth.
"These are exciting times for the kingdom and I am honoured to be stepping into this role during the same," said Yaarob Al Sayegh, newly appointed CEO of Virgin Mobile Saudi Arabia.
"I look forward to continuing Virgin Mobile's achievements in support of Saudi Vision 2030, reinforcing our commitment to growing our presence and partnerships in the market, and continuing to drive innovation in the telecom sector. As the world continues to fight the coronavirus, Virgin Mobile's broad digital offering and experience are more relevant than ever to our customers, partners, and government. My priority is to see this offering continue to grow as we help lead the kingdom's telco market forward."
Virgin Mobile's digital transformation efforts to date have brought positive disruption to Saudi's telecommunications space by placing more power in the hands of consumers.  Virgin Mobile is quickly challenging the status quo in GCC Telco markets by giving consumers the ability and freedom to control build and control their own plans with no commitments through a uniquely digital experience.
"Yaarob's years of industry and technical experience, coupled with his deep personal understanding of the Saudi market, make him the ideal candidate to guide Virgin Mobile KSA into an exciting new era of progress and prosperity in the Kingdom," added Erik Dudman Nielsen, Group CEO of Virgin Mobile Middle East and Africa.
"We launched our digital proposition in 2019 and transformed the Saudi telecom market by reimagining the way our customers interact with our brand. Developments such as the Virgin Mobile app have revolutionized the customer experience for telcos in the Middle East, and our sights are set firmly on further digital innovation. We're excited to have someone of Yaarob's calibre leading our Saudi organization through the next phase of our journey."
Before joining Virgin Mobile Saudi Arabia, Yaarob Al-Sayegh was Executive General Manager of Digital at Mobily, following almost five years as Executive General Manager of the Saudi telecommunication company's Fibre-to-the-Home Unit. Here, he guided the development and launch of new services under each unit, managed and forged new strategic relationships with major blue-chip partners, and oversaw Mobily's device portfolio.
Prior to this, Al-Sayegh held senior executive positions at Intigral and Saudi Telecom Company (STC).