United Arab Emirates- December 1st 2020: The French company MYBEA has developed a new tablet and smartphone application for hotels and restaurants owners. This application allows customers to manage their own place in hotels and private beaches, such as booking private sunbeds or a private swimming pool or viewing the menu online.
MYBEA will introduce its technology during the Gitex Technology Week, which will be held from 6 to 10 December 2020, on the French pavilion. The exhibition unveil this application that allows for a reduction in the time period between the customer's need and the request of the service. The app also allows for a decrease in the movement of employees which aligns with the social distancing measures related to COVID-19.
The MYBEA app enables hotel and restaurant owners to optimise the occupancy rate of their swimming pool or beach. The application immediately tells customers which sunbeds are available. They can also pre-order their drinks from the online menu.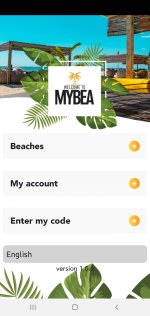 Hotel and restaurant employees can access the online reservation system via the app and offer online card payment for the customers. The app can be used to call servers, and thus allows for interaction between customers and restaurant owners. It is designed to improve the customer experience and the services offered to them.
The app is active 24/7 and customers can even make reservations from their home before they arrive at their holiday destination. MYBEA sends notifications about happy hours, and flash sales based on consumer behaviour data generated by its algorithm.
According to MYBEA founder Jean-Marc Berger, "the application provides hotel and restaurant owners with a user-friendly, online system that meets their space management needs and has a range of uses, from reserving sunbeds and ordering food and drinks to managing staff. Everything has been done to create harmony between customers, servers and managers".