The networking giant is on the road to recovery, thanks to a business model realignment and expenses cut.  At the company's annual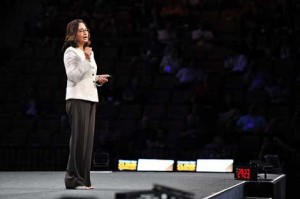 user conference Cisco Live, held recently in London, Cisco has shared it growth strategy and vision for the future with its users and partners. The event was kicked off by the company's CTO Padmasree Warrior, who said customers are looking for leading edge solutions as they accelerate from zero to zetta, and technology transitions are changing markets.
"Today, there are around 13 billion devices connected to the network, which will reach 50 billion by 2020. We are seeing the emergence of new applications and new services, and one of the key trends is the increase in video traffic.  The number one priority for CIOs around the globe is video, which will quadruple all IP traffic by 2014. The enterprise-class cloud technology will be used by 70 percent enterprises  this year and 56 percent of organisation will deploy desktop virtualisation," predicted Warrior.
According to Cisco CTO, business volatility is putting pressure on technology, making it an imperative to offer technology that is resilient and DR is emerging as key. "Delivering solutions and how deliver is going to change, as businesses have to deal with the reality of globalisation. The discussion is not about outsourcing but about sourcing talent, which is going to be distributed," she said.
Cisco believes the network is the foundation to drive business value and country transformation. "The role of network in the past was to deliver apps from server to client but now everything extends from the network. It allows to maintain control and deliver value-added services in cloud and virtualised data centre environments," said Warrior.
Unified DC- Cisco cloud strategy has 4 pillars, we will provide infrasrtructure and we are working on networking innovation that on ISR platform- to access services- Tailored solutions for building clouds, connect to cloud with confidence with visibility, security and performance, ecosystem of integrated solutions- cloud services delivery, specifically around collaboration, security as a service.
Cisco also has plans to flesh out its cloud offerings, which has a four pillar strategy to help customers build private, public and hybrid clouds on its Unified Computing System.  "We will provide tailored solutions for building cloud and connect to clouds with confidence, visibility and without compromising security and performance," said Warrior.
Cisco's cloud strategy revolves around building an eco-system, and the company acknowledges there is a danger in building everything approach, dismissing rumours that the company might foray into enterprise storage. "Our approach to cloud is best of breed and we have key partners such as EMC and VMware. The reason we do that is because customers always to have investment protection and they want innovation on the existing infrastructure and evolve to the future," said Warrior.
Another significant announcement at the show was Cisco's intention to make software one of its core competencies. The company's software-defined networking strategy revolves around bringing together all platform independent coding onto a single platform and cross pollination of features between its IOS and Nexus OS.
Warrior said  the company will focus on three software categories – application software, management software and the network operating system itself. She said the integration of these three types of software will drive intelligence within in the network.  "We are on this journey to transform software to be much more of a competitive advantage for us, and evolve from legacy ways of thinking about operating systems to new ways of creating networking operating systems that are much more intelligent and contextualised."
Cisco believes network administrator's roles will also change, because rather than just focusing on how application and devices connect to the network, they will also have to look at the performance of the application on the network, make adjustment to packet transfer rates and integrate virtualisation into the network operating system. The company plans to create APIs to aid application integration, and start integrating virtualisation natively into the operating system.
Cisco says switching continues to be a key focus area for the company and R&D spend in this space exceeds all of its competitors, resulting in a 70 percent market share in switching. At Cisco Live, Cisco has made major announcement around its switching portfolio by adding 100G and 40G interfaces to  Nexus 7000 platform, and 40G capabilities to the Catalyst line.
Cisco also announced two new fixed-configuration platforms that provide high-density 10 GE switching. Making it easy to use this capacity, Cisco announced simpler network virtualization functionality for its Catalyst 6500, 4500 and Aggregation Services Router (ASR) 1000 product lines with a new technology called Easy Virtual Network, as well as scalable virtual services with a new Nexus 1010-X appliance for the data centre.
Mobility is another key focus area for the company and Cisco says mobility is going to move away from device-centric to people centric. "It is much more about being access agnostic and the network becomes the control plane, aware of the topology," said Warrior. Cisco boasts of 300,000 plus wireless customers, 410 patents wireless patents and 11.7 million access points sold in the last decade.
At Cisco Live, the company has taken the wraps off its Aironet 3600 series access point. Armed with three spatial streams and a fourth antenna, this 802.11n access point is designed to enable people to be seamlessly connected from any wireless device, even those with weak wireless signals.
With consolidation and virtualisation driving data centres to a different architecture, focused more on collaboration and business outcomes, Cisco's recent sales re-alignment centred around networking, data centres, mobility, video and collaboration seems to be paying handsome dividends, if the recent financial results are anything to go by.  Cisco, indeed, is walking the talk.