Bob Aoun, Regional Sales Director at Poly, outlines the key measures he believes businesses need to implement in a bid to retain their top talent – and build thriving hybrid workplaces across the Middle East.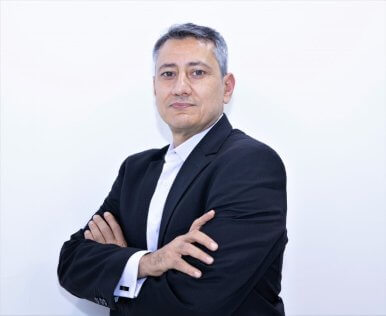 We know that we now live in a 'work from anywhere' world – but the rapid transition to this new norm has caused a lot of issues for many companies across the Middle East region.
Bob Aoun from Poly, is a respected leader in the IT ecosystem – and he has offered his sound advice to help businesses overcome these challenges in an exclusive op-ed for September's edition of CNME.
With the hybrid working sentiment growing in the Middle East, the latest data from CISCO shows that in 2022 90% of UAE professionals want to adopt the hybrid or fully remote working model.
This can have huge implications for businesses. According to Poly's recent report, "The Journey to Hybrid Working: Twelve Considerations" 6 out of 10 firms in the Middle East already fear they will lose talent if they don't adapt to meet growing demand.
Successfully implementing hybrid work requires the combination of culture, guidelines and the right tools that will both support business objectives and align with employee engagement.
It requires a delicate balance that will put employees' well-being first without sacrificing productivity while providing a new age of empowerment without promoting burnout.
Prioritising well-being keeps productivity high 
The pandemic shifted the focus back to both physical and mental well-being, as well as a healthy work/life balance for employees.
Companies that aim to provide physical safety and cater to the well-being of their employees are rewarded with boosted productivity, reduced absenteeism, and lower turnover.
Since returning to work, many businesses have adapted to make the office a safer working environment. Giving employees peace of mind with; thermal scans, air filtration systems, partitions, and the presence of anti-bacterial products around the workplace
Allowing employees to switch off 
Yet, as many are now realising, hybrid working brings challenges of its own. According to Poly 49% of organisations don't take steps to combat the "always-on" mentality, with half of the correspondents reporting an unhealthy overworking culture.
As one of the most stressed countries in the world, the UAE must address this by preventing burnout and setting stricter boundaries
Setting empowering boundaries 
Employees have more flexibility in how, where, and when they do their work. But this is also when life creeps in which can sometimes force employees to extend their working hours at home. And given the ease of digital communication now with companies adopting the likes of Slack, WhatsApp, and Zoom, work can easily come calling outside of business hours.
But employees need to know it's okay to switch off when they are in their own environments. Managers wouldn't insist employees come into the office at night for an email, so this expectation shouldn't be the case remotely.
Guidelines that manage a hybrid work arrangement is fundamental to its success. There needs to be clarity on the working schedule, communication channels, and expectations on all sides.
Otherwise, businesses run the risk of burning out staff and tanking productivity.
Taking ownership of the balance 
But the onus of setting and enforcing these guidelines should be on the business. To make sure guidelines are backed by policy, and the correct measures or tools are in place to support teams.
For managers, this means setting clear expectations and recognising the signs in employees who are overworking. For the business, it means promoting a healthy work culture and putting hybrid work management and ownership into their job descriptions.
Only when well-being is promoted from the top-down and responsibility taken to ensure the health of employees will the thriving hybrid workplace be found in Middle Eastern businesses.