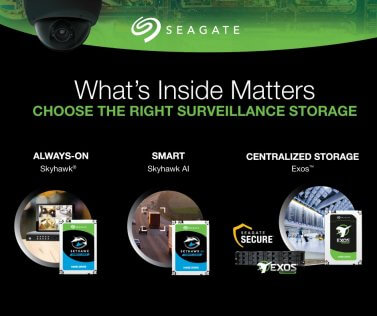 The surveillance industry is rapidly evolving and the demand for higher video resolution, analytics, and longer retention requires much greater storage capacities. There's no excuse for a bad camera feed, a lost internet connection, a missing moment in time.
Surveillance systems are built to protect and preserve the most valuable of assets — whether monitoring and securing the world's largest airports, working to keep us safer at public events, or monitoring traffic on the busiest roads. The storage drives at the heart of such surveillance systems have a vital role to play in implementing the efficiency and effectiveness of its features.
In the race to ensure surveillance data is securely stored and analysed to extract business insights that facilitate quick decision-making and mitigate risks, companies, irrespective of their size, across industries are exploring emerging technologies for a full-proof solution.
For example, one such leading bank in Egypt was guided and assisted by ADI Global Distribution with their surveillance needs. The bank sought to deploy a safe, secure and integrated video-based surveillance drive that could integrate and capture video streams from approximately 1150 cameras, optimise archiving speed, as well as record metadata, provide real-time status and produce reports.
As a trusted advisor, ADI Global Distribution equipped the bank with Seagate's Exos Enterprise Hard Drive 12TB to meet the length and breadth of their data security and surveillance concerns.
Exos™ is engineered to be a highly reliable solution for servers, storage systems, and business-centric NAS systems and can handle the most rigorous workloads. The hard drive enables fastest data transfers and is coupled with Seagate Secure™ models that provides best data protection for data-at-rest. In addition, the advanced helium technology within the hard drive supports low power and weight, as well as it customises your bulk storage requirements with PowerBalance™ and RAID Rebuild®.
Seagate's Exos™ Enterprise Hard Drive was installed across 40 buildings of the bank and is enabling the institution to capture videos and analyse data from a total of 1150 cameras, with each building home to approximately 32 cameras. Since the drive seamlessly integrates with surveillance solutions from multiple vendors, it worked well with the existing Honeywell surveillance solutions that the bank had previously deployed.
For the recent days banking industry is exploring artificial intelligence powered technology to be utilised for better customer experience and keep customers safe.
Artificial intelligence too has risen to prominence within the surveillance landscape. It is giving surveillance cameras and storage  digital brains to match their eyes, allowing them to analyse video in real-time without human intervention.
Keeping this in mind, Seagate's SkyHawk™ AI 16 TB is an evolution in surveillance-optimised drives. Engineered with the industry's latest technology, SkyHawk™ AI 16 TB is the world's first purpose-built drive for AI-enabled surveillance systems. The drive supports over  +10,000 hours of video and analytics and 3× the workload of standard surveillance drives, while consuming low power. Every drive includes a SkyHawk Health Management and Rescue Data Recovery Service plan as well.
Designed for deep learning applications that extend AI surveillance capabilities, SkyHawk AI simultaneously supports heavy AI workloads and smooth video streaming. It offers features that are ideal for AI environments with intensive computational workloads: enhanced caching, delivering low latency, and strong random read performance. Its AI surveillance applications are preset with ImagePerfect™ AI firmware that delivers superior image integrity for random read and 24×7 workloads. ImagePerfect™ AI firmware eliminates image pixelisation, reduces data errors and prevents frame loss that is a common occurrence when capturing multiple video streams. Moreover, SkyHawk™ AI's scalable AI workloads support up to 32 AI streams while recording up to 64 camera streams.
Whether your surveillance needs are limited or complicated, Seagate's  Exos Enterprise and SkyHawk™ AI Drives will always strive to match your expectations.