CNME Editor Mark Forker interviewed Alpha Data CEO, Fayez Ibbini, to find out how the IT company has coped and adapted to the industry challenges presented by the ongoing global COVID-19 pandemic, the wide-ranging economic impact the crisis has had, how it has changed the way we work – and what the future will look like.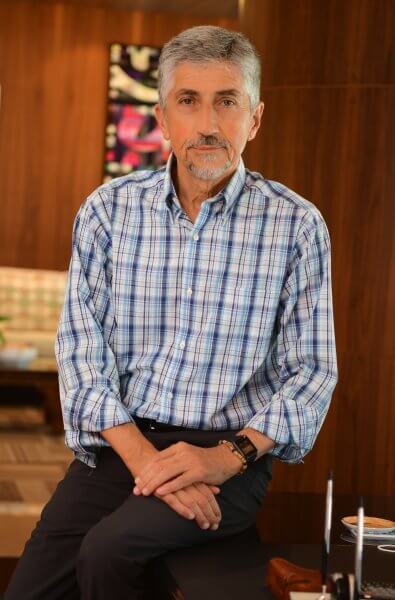 Under the dynamic tutelage of Ibbini, Alpha Data have firmly established themselves as one of the region's leading systems integrators – and are one of the most trusted and reputable channel partners in the IT ecosystem.
Much of its success in the market has been down to the innovative thinking and vision of its CEO, who has earned a reputation for always looking for ways to better improve the services they offer their customers and partners.
His foresight and outstanding leadership were illustrated by his early and proactive response to the COVID-19 crisis, with business going ahead as normal in the UAE, Ibbini took the decision to postpone their staff party in February, based on the information he was reading relating the virus.
"From the outset we have approached the pandemic from the perspective of ensuring that all are employees are safe. We had a staff party scheduled in February, but with over 400 people being in the one confined space, it just didn't add up for me, and I wasn't comfortable with the idea, so I took the decision to cancel the party. The hotel expressed their disappointment that we postponed, but as I said the safety of our employees are paramount to me, so it was the right decision to take," said Ibbini.
The Alpha Data CEO pointed out that before lockdown commenced, there wasn't a lot of guidelines on what to do, because not much had happened in the UAE. When the time did come to embrace the concept of working remotely, Ibbini explained the difficulties they encountered.
"When you are an IT company, every employee is crucial in terms of supporting the customer, so instructing them to isolate, or to work remotely was crippling in the earliest stages of the lockdown, but over time we adapted and learned how to go about it effectively, and we were also very fortunate that in the industry we operate in we have all the tools at our disposal to enable us to work remotely – and crucially to remain 'connected' with our customers," said Ibbini.
The charismatic figurehead of Alpha Data explained that many employees initially struggled with the transition from the compounds of their traditional office environment to a virtual one – but stressed that it had been a huge learning curve for the company and that he had been fascinated by how some had adapted.
"In many ways it has been a new learning experience for us, and in terms of the 'new norm' most of our people actually welcome it and have been receptive towards it. However, initially our employees were restless when we told them to work remotely, so many of our them were telling us they can't stand it and were finding it very difficult. However, after two months, we now have to try and persuade them to come back into the office. It's very interesting to see how we can adapt to things very quickly – and the other aspect that I found extremely interesting is just how effectively people worked from home, sometimes they were working until 10 or 11 at night, so instead of working less, they were working more," said Ibbini.
According to Ibbini one other fascinating aspect of the COVID-19 situation, was that in many instances it served as a catalyst for change. He pointed to transformation involved in the process of signing important documentations like Power of Attorneys.
"During COVID-19 we've seen that what we once thought was impossible, suddenly became possible. For example, my partner and I had six Power of Attorneys that we had to sign, and this is typically a very stringent and robust process that is time consuming. However, during lockdown they deployed technology in order to move the process online. It only took us 6-8 minutes to complete all the documentation and the time it saved us both was incredible. It really was fantastic, and I hope it continues to be a digital service, as it is much more convenient," said Ibbini.
When asked did he see a paradigm shift occurring in terms of how organizations view when we work, where we work and how we work in the post-COVID world, Ibbini was measured in response and said that his on opinion of working remotely has changed several times since lockdown began in March, primarily due to the success of the transition from office to home.
"My response to this question has shifted over the last two months. In the early days, I felt OK, we have to do it, but it probably won't work. Then I started to see results coming through that equaled, and in many cases was actually better than before, so then the question became do we really need to go back to the office," said Ibbini.
Ibbini pointed to the fact that many employees had benefited from no longer having to undergo lengthy commutes – but stressed that despite the many positives in working remotely, it was impossible to both build a culture in this type of environment and form relationships among colleagues.
"In the last few weeks, I've noticed another trend from the staff and that is that working remotely is effective and practical, but it doesn't work in terms of creating a culture and connectivity between staff. It's hard to become friends over a Zoom call. When I was holding meetings online, afterwards I felt exhausted and I couldn't understand why, but then I realized that I was trying to fill in gaps that a Zoom call doesn't solve. I was trying to read body language and the eye movement and general interaction to see what the other person is signaling to me. When I sit with them face-to-face it's much easier to read these things. I'm now of the mindset that it has to be a combination of both, and we need a blended hybrid model in terms of how we work in the future," said Ibbini.
In another illustration of strong leadership, Alpha Data's CEO has empowered his managers to decide which employees work best from home and which ones need to be in an office environment to derive the best results.
"I've told the managers that I'll leave it up to them to decide which employees can deliver the best results from home, and which ones that work as part of a team need to be in the office to sit with their colleagues. They are better placed to make the decision and manage their teams. There is no final answer, but there is definitely a need for a physical contact in addition to the productivity aspect from working remotely. In my opinion, you need to try and find a happy medium between both worlds, so you can maintain a culture," said Ibbini.
Attempting to predict the future in the unprecedented world we now find ourselves in is almost impossible, but there is extra pressure on Ibbini, who is responsible for over 1600 employees. The CEO of the IT leader claimed that there is simply 'no truth' right now.
"I have to be very careful that I don't misguide them in one way or the other, but I also have to inform them that there is no truth out there. Medical professionals the world over and are constantly arguing with each other in relation to the situation. In the end there is only one truth, and that is that we don't have an answer, and we don't have a vaccine, so we're going to have to live with it for months and just continue to adapt the situation as it evolves in the best way we can," said Ibbini.
In relation to the economic uncertainty that has been caused by COVID-19, Ibbini disclosed that his concerns were two-fold – and warned against the potential damage a secondary lockdown could have both economically and in terms of morale.
"I do believe that a secondary lockdown would cause despair. I think with the first one people were very co-operative, but whether it's in the US, UK or here in the UAE, I don't think people will tolerate it. If that was to happen then it would obviously be detrimental and damaging to the economy," said Ibbini.
One other trend that Ibbini has observed is that people are not shopping, and that another thing we've learned from the crisis is that the dopamine hit we get from buying something is not all that necessary, and in truth is something we can do without.
"I'm concerned about the changes in spending behaviors and what that will do to places like Abu Dhabi and Dubai if people stop spending on consumer products? This would have a devastating impact on an economy such as Dubai, that is dependent on consumer spending. As a company it would be a huge concern for us, simply because it will change the whole landscape of the economy," said Ibbini.
Interestingly, he also warned against the dangers of companies who stop paying – and added that if the money dries up then it has knock-on effect on everyone.
"One other huge problem here is once there is a crisis, people stop paying. They think it's the 2008 financial crisis all over again and it's not, and they think that if they pay me and then they don't get paid they seem to think they'll have a cashflow problem, so they stop paying. However, we all know that fundamentally money is the grease of the engine and if you stop it everything will seize up. I have done everything I can to convince people to keep paying, and we pay as fast as we can because money doesn't add any value in the bank, so why hold the money? We need to let it flow, we've talked with banks, government entities and others in the private sector, and it is happening, but not at the speed at which I'd like," concluded Ibbini.
Whatever the future holds, Alpha Data under the guidance and management of Ibbini, are in safe hands and will continue to be both a leader and a major player in the IT industry here in the Middle East.