Veronica Martin caught up with Rob McGreevy, Chief Product Officer at AVEVA, during AVEVA World 2023 to discuss how AVEVA's innovative software solutions are transforming businesses and fostering sustainable growth and how he envisions the future of industrial software.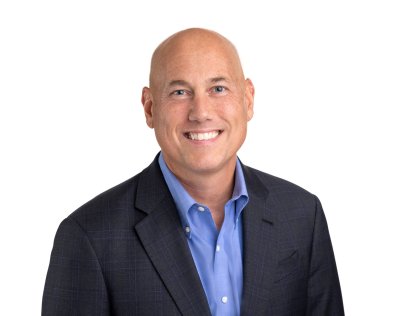 Can you share insights into how AVEVA's innovative software solutions are transforming businesses and fostering sustainable growth for your customers and partners?
We address customer's problems across different areas of the lifecycle, making intelligent designs for equipment, large capital equipment, plants, machinery and equipment. We provide capabilities for production operations. That is how we can optimize the production finished goods, whether that's power, water, pharmaceuticals, food or beverages. As we do that, we provide digital software solutions that help them do that more efficiently, more productively, safely and in a sustainable way. One of the unique things that we're doing is you make and manufacture things, capturing all sorts of information about that process, and you are using water, steam, air, gas, feedstocks and electricity. What we're able to do is help customers make finished goods or provide power or water, whatever it may be, but at the same time reduce the cost complexity of making those things at the same time, then reduce the energy footprint associated with it.
We've got a range of different solutions that we provide that helps manufacturers, designers, builders in these markets do those things. Most of that is our software technology that helps address that design, build, operate, optimize and lifecycle. We do that across lots of different vertical markets and industries. While we help them innovate and deliver different solutions, what we also offer each of the vertical markets it's a little bit different based on what that industry itself is facing or trying to achieve.
With your extensive background in product and business management, how do you envision the future of industrial software and its impact on manufacturing and infrastructure, especially in sectors like power, water, food, beverage, pharmaceutical, and energy?
I think it's going to change a lot and quite dramatically. Today a lot of manufacturers (power, oil, gas, chemicals) have many people that work on software to make the software work. As we move to cloud and software as a service, I think it's going to free these companies up to spend less time and energy building, configuring and managing their software and allow them to spend more time on optimizing their production. These companies are in the business of producing power, water, chemicals or moving gas through a pipeline, but they still have a lot of software people. This means they end up becoming little software companies inside of these big enterprises, but if their goal is really to produce finished goods, the more we can free up their time to focus on that problem instead software, the better.
I think software as a service and cloud computing will help us do that together with these industries. The biggest impact of all industries is going to come in the energy sector. This is the movement towards renewables and the electrification of vehicles. It's that whole sort of world of where the energy's transitioning. That's the biggest headline for our industry and for us, it's going to have a big impact in power. The second biggest thing is the diversity of generation assets and the knock-on effect it has on the power grid. Moving from fossil sources to highly distributed energy generating resources like wind and solar has a big impact on the energy. For the grid itself, it has a huge impact because the grid used to be fairly stable in terms of generation because it was fairly managed power plants that were running in a kind of constant load, but now, when the wind blows, there's more energy being created over here.
Therefore, I have to balance things differently, and when the sun's bright and shining over here, I can generate more solar. This whole problem of orchestrating becomes quite complicated and it's not unlike what we see in the supply chain for companies that have to source materials and ingredients from different places and locations. It's kind of a similar supply chain problem for energy manufacturing.
The second area was that the use of water compressed air, like natural gas, steam and electricity, which are the major feed stocks for making stuff. All of those used to be just sort of assumed they would focus on producing finished goods, but these were just the cost of doing business. I need electricity and water, but because of what's going on in the world, sustainability is on top of my mind. The effective, efficient and responsible use of those resources is my priority. For all of our sectors, this has a huge impact, so many of our customers are paying attention to how they're using their electricity and how they can make it more efficient because it affects the bottom line, makes them more profitable, but also can help to have a more sustainable and better future.
Could you provide examples of recent initiatives or developments in your role as Chief Product Officer that are driving AVEVA's commitment to customer and partner experience and delivering value through your industrial software portfolio?
All of our software is highly open and extensible, which means that we have certain capabilities we provide, but partners can easily develop specific solutions, applications or capabilities in and around that provide new business opportunities for them to create new avenues of growth. It provides customers with more choices for different types of applications that they can enable inside of their businesses. That's probably one of the things I would say about the technology itself. Around that, we also have this network of system integrators whose job is to implement these large solutions at scale.
This also provides through our partner ecosystem, a mechanism for those companies to partner with us to both help grow their business and help our end customers deliver the solutions they need. So, as far as the partners and ecosystem goes, the technology's been enabled so that more partners can build things, create new solutions and, if customers win, they win. Besides, system integrators are able to plug into that same network and provide their project services for customers to ensure they get their projects delivered as needed on time and they also have an opportunity to grow their system integration businesses.
You hold numerous patents in software and technology. Could you highlight a particular innovation or patent that you are especially proud of and how it has made an impact in the industrial software industry?
We do lots of patents each year and the ones we are most proud of are on the visualization front. We have core businesses around data, infrastructure, PI business, visualization with HMI SCADA and also the engineering design side. On the visualization side, there are certainly patents for how visualization technology can be used specifically in industrial manufacturing and enterprise visualization applications. Those are the areas that I think are the most interesting for us as they are highly visual, quite tangible and one of the most fun areas of the business for me personally.