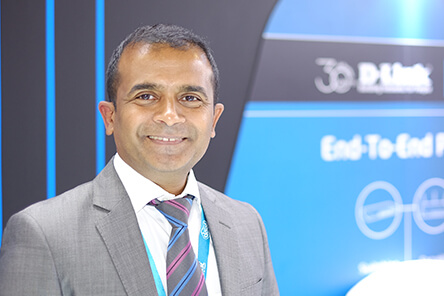 D-Link Middle East and Africa regional director Harrison Albert discusses the company's strategic partnership with network security firm GajShield, and how their collaboration can help enterprises protect networks and prevent data leaks.
Can you please elaborate on D-Link's partnership with GajShield?
D-Link's strategic partnership with GajShield open the doors to partners in the Middle East and African market to reach the SMB and enterprise segment by empowering them with the best-of-breed solutions for network and data security. D-Link's vast market intelligence enables Gajshield to evaluate their products against the market's needs, allowing them to deliver the latest technological trends and develop future-ready products.
What differentiates GajShield's solutions from its competitors in the market?
Data today is a very important aspect of any organisation's security measure and data leak prevention is a top priority for CISOs. GajShield Firewalls have an integrated Context-Based Network Data Leak Prevention that helps organisations secure data and prevent both intentional and unintentional data leak across various web, cloud and Software-as-a-Service (SaaS) applications. This solution combined with Gajshield's remote working solution Enterprise Cloud, allows organisations to ensure data security even with the remote and roaming users.
What are the key elements driving the demand for more sophisticated network security solutions? How are D-Link and GajShield addressing these demands?
Organisations today have moved beyond just the network and use of multiple cloud/web application for data sharing and storage for enhancing business operations. The recent adoption of remote working has brought out the fact that the network boundary is vanishing and defending it demands a more sophisticated security solution that does not only protect the network but also guard corporate data.
GajShield addresses this demand by taking an all-new Data Security Approach. This approach keeps data at the core of all its security measures and at the centre of security policies.
Unlike traditional security methods, Gajshield's Data Security Approach uses Contextual Intelligence Engine that leverages the Layer 7 application visibility, which delivers deeper intelligence to prevent data exploitation.
According to IDC, there will be 41.6 billion IoT devices in the field by 2025. How important are next-gen firewalls in securing the connected era?
Internet of Things (IoT) technologies will be a crucial part of our future daily lives. They will also be the most targeted devices by cybercriminals if left unsecured, these devices will be used as a gateway to enter one's network and take control of their whole ecosystem. We have seen such attacks in the past and it will only grow in the future. Cybercriminals will use these hacked systems to perform DDOS attacks on various organisations. Additionally, these devices can also be leveraged to mask various other attacks. Hence, using a firewall will be vital in preventing cyber-attacks that could have real-life harmful implications to people utilising IoT devices.
The current COVID-19 pandemic has pushed organisations to implement work-from-home strategies, which puts significant security strains to corporate networks. How can GajShield's solutions strengthen organisations' network security and help stem data leaks?
COVID-19 has changed the way we work. With the adoption of work from home models, enterprises are facing challenges with not only securing the remote users but also preventing data loss, whether it's by accidental or intentional data leaks. GajShield Enterprise Cloud Solution enforces the traffic of these remote users through the Head Office's Firewall (public or Private) and applies data and network security policies on these users. This helps in monitoring and controlling of data transactions across Web, SaaS and Cloud applications like Gmail, Yahoo, Rediff Mail, Google Drive, OneDrive, File Transfer applications like We Transfer and various Social Media Platforms. This also prevents Shadow IT and gives organisations the ability to control access to various application and restrict them for business use only. Enterprise Cloud also allows the organisation's Cybersecurity team to enforce security policies to restrict access to malicious applications and URLs that poses as a threat to the organisation.