Sami Abi Esber, President – Midis System Integration, Board Member – Midis Group, tells Reseller Middle East why the MENA region is an exciting place to be in right now, with the strides it is making in digital transformation.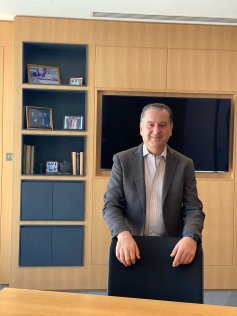 How would you describe the digital transformation journey of the MENA region? Where does it stand today?
Currently, in the MENA region, there is a consensus over the need for digital transformation between high-level decision makers, regulators, private sector business leaders, and end-users. At the same time, citizen and residents are more connected than ever, with the massive rise in the number of smartphones, which represent a key element in the consumption of various digitally transformed services as well as the generation of data needed for digital business models. So, I'm not surprised that the digital transformation market in MENA is forecasted to reach $2.8 billion(1) by 2025.
Economies like the KSA and the UAE are setting high standards. Take the Emirates Blockchain Strategy 2021 for example — it aims to blockchain-enable 50% of government transactions. Where else can you see such large-scale, ambitious transformations happening?
In Saudi Arabia, The Kingdom's progression towards a new and improved method of accelerating the stages of development related to Digital Transformation, are being demonstrated through projects like NEOM & Red Sea which illustrate a "new vision of what the future should be" using "Digital Innovation."
We see many countries adopting a national strategy to enable digital transformation, while other countries are having limited initiatives in specific sectors critical to their economy. It is also worth noting that the private sector is instrumental in the adoption of digital transformation. This is driven by the need to improve key performance indicators using digital technology as well as enhance the customer experience. We also see some excellent work in the start-up community where new business models enabled by digital technologies are emanating from the MENA region and making its presence in the global market. There are a number of unicorns that emanated from the region, and for these types of start-ups and Unicorns, youth empowerment via incubators and accelerators is inextricably tied to the success.  So, overall, I must say, it is an exciting time to be in the MENA region, and to note that digital transformation is a journey and not a destination by itself, as once you transform, technology will further evolve, enable new scenarios and there will be a need for a second wave of transformation and so on. We are at the beginning of the journey in MENA region, but certainly making interesting strides.
How can organisations focus on innovation while staying ahead of technology trends and achieving their digital transformation goals?
There is no one-size-fits-all approach to digitalisation. Organisations must develop their own in-house vision, provisioning for future possibilities and changes. Such proactiveness may not pay immediate dividends, but when it does, it will be worth it. For instance, organisations that had flexible working policies and required tools in place before the pandemic were well-equipped to immediately pivot to complete remote working. No productivity was lost in transition.
Leaders must factor in all employees and departments in digital transformation strategies, because every organisational function now carries scope for technology adoption. Innovations happen at the intersections. So, it is of great consequence that all opinions and ideas are brought to the table. I believe, when all is said and done, digital transformation is about creating a company culture that is conducive to exploring new technologies and responsive to changes. Innovation is a big word, and it has to be an organisational culture to support and encourage innovation from the very top. Innovative ideas, however, can come from anywhere in the organisation. Actually, it typically comes from the fringe. It is often complex to transform an innovative idea to an executable, value creating business, and it is the role of the management to guide the process to achieve success, and if it is not going to be successful then to "fail fast" and not drain your resources in pursuing a failed idea. Differentiating between which innovative ideas needs the stamina and support to succeed and which should be allowed to fail fast is a mix of business acumen, experience, intuition and an art.
The real challenges of digital transformation lie with the organisation, its people and its leaders. How do you think business and tech decision makers within an organisation can collaborate, to homogenise the digital transformation journey?
This is a great question and the short answer is that nowadays, every business at its core, is becoming an IT business! Sounds like a bold statement, it is not. Think of any business, and see how it can be impacted in its innovation, competitiveness, reach, customer experience, operational efficiency by the use of digital technologies. If you are in retail, insurance, banking, real estate, manufacturing, transportation, government, education or any other industry, there is so much that you can do with digital technology, and you can no longer say that the business side needs to collaborate with tech decision makers, because tech is an integral part of the business or tech is essentially what will create value for the business, so they need to think as ONE!  The question then becomes, how would that practically work and what would be the roles given existing organisational structures? The tech role would be to "listen and educate," listen to the business challenges, understand the landscape, and at the same time "educate" the business on new possibilities today using digital technology and do that in simple understandable terms. The "business" would then be able to frame the value creation model in the digital world, then they can both identify strategic transformation initiatives and work together across organisational boundaries to make it happen. Some organisations create the role of a Chief Digital Officer, or a Chief Transformation Officer, to facilitate such work.
While digitally transforming, is it possible for organisations to re-engineer their business processes without significant cost escalation? How can they maximise their digital outcomes without breaking the bank?
 Globally, by 2023, the direct spending on digital transformation is projected to reach a total of $6.8 trillion(2). The question we need to ask ourselves here is: What do these organisations know that others don't? If anything, they are investing in a future where they can rake in multi-fold returns. And at the current rate of transformation, that future is not too distant.
But that doesn't mean you have to break the bank; you just have to make well-informed decisions, choose the right technologies and service providers, and foster long-term service relationships. As spending increases, organisations must find ways to leverage digitalisation and cut costs. For example, centralisation of software infrastructure, IoT and AI-led maintenance and inventory management, or any efficiency-driven approach, will lead to savings; which can offset the increased digital transformation expenses. Like in anything, there is always "low hanging fruits", and it is always a good idea to capture these at the outset, as they will help you realise either additional revenues, or optimise cost, hence fund the transformation. There is also amazing technologies like RPA (Robotic Process Automation), that can very quickly help organisations slash business process cost and optimise the processes.
What is your advice to companies in the region that are looking to accelerate their digital transformation goals? What is the most important aspect they must consider?
The MENA region is well-positioned to make great strides in the global digital order. I say this because we were relatively late to the digital party, but now that we are here, we are taking an energetic approach to digital transformation. In other words, we are not jumping on the digital bandwagon; we know for the most part, what works and what doesn't, based on our learnings from early adopters.
So, what I'd like to tell organisations is that there is a vast untapped potential, and you cannot go wrong by accelerating your digitalisation; you will only have more time to course-correct and enhance your competencies. But the important aspect is to not lose sight of the bigger picture, because the day you plant the seed is not the day you eat the fruit. I suggest you start with the "no brainer" activities, as if you don't, all your competitors will, and you will be at a disadvantage. Second, think of one additional unique value creation initiative using digital technology that will set you apart from the rest, and invest in parallel in both; the no brainer and the unique value creation initiative.
___________________________________________________________________________
https://www.marketwatch.com/press-release/middle-east-and-north-africa-mena-digital-transformation-market-size-2021-consumer-demand-developments-plans-industry-impact-and-forecast-till-2030-2021-07-08?tesla=y