Rami Kichli, Senior Vice-President, Middle East & Turkey, Software AG on how the company helps organisations connect with the world seamlessly and efficiently.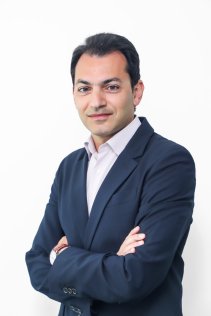 About Software AG
Software AG helps simplify the connected enterprise where systems integrate more seamlessly, technology connects more effectively, and processes run effortlessly enabling information (and insights) to flow more freely.  "We offer the digital backbone made up of integration & API management, IoT & analytics and business transformation technologies. We prepare governments and enterprises to simplify the complex world by bringing seamless consolidated, conformed hybrid integration and data integration capabilities through our cloud native solutions to build digital backbones – the central pillar of control, consolidation and flexibility in an organisation.
The truly connected enterprise doesn't just happen, it is methodically and reliably built through platforms that make it possible. Data is connected through an integration & API management platform. Things are connected through an IoT & analytics platform. Processes and IT decisions are connected through business transformation platforms. When they are all in place, the truly connected enterprises come alive. And Software AG helps make this possible."
Focus at GITEX 2022
This year, the focus has indeed been on how to simplify the connected world. In Kichli's words, "the world we live in is connected-people, process and technology-and what we do is help connect seamlessly by providing organisations with a 'digital backbone' that helps abstract complexity and fast track their digital transformation efforts. At GITEX this year, our visitors got to see plenty of innovations developed by our partners, particularly around food, healthcare, waste management and sustainability."
Strategic partnership with G42 Cloud
Software AG entered into a strategic partnership with G42 Cloud, a G42 company, the UAE's leading Artificial Intelligence and Cloud Computing company, to enable customers across sectors to achieve cloud hosted truly connected enterprises. According to Kichli, this move will further empower entities to unlock new offerings, garner actionable insights, drive strategic decision making and scale operations by hosting and deploying customers onto G42 Cloud.
"As part of the collaboration, Software AG's SaaS cloud native offerings, that help build modern 'digital backbones', will be deployed on G42's Cloud. This will aid governments, special industries and enterprises to achieve the 'truly connected' vision, where systems integrate seamlessly, technology connects effectively, and processes run effortlessly. The suite includes Software AG's Integration & API Management, IoT & Analytics and Business Transformation Technologies," Kichli said.
"Cloud continues to be one of the key driving forces behind innovation globally. With the accelerated migration to cloud and need for data and applications to be connected, integrated and accessible, this a significant step as organisations look to successfully navigate to the cloud and emerge stronger. With G42 Cloud as MENA's largest and most powerful cloud, our strategic alliance compliments Software AG's digital transformation vision of delivering end to end solutions that fulfil customers' transformational expectations and enable us reach wider audiences," he added.
Region's first IoT academy
Last year, the company announced the region's first of its kind IoT academy aimed at providing learners with the knowledge and skills to build and lead IoT-based transformations, boost the tech industry and stimulate IoT adoption. "Each program will include 12 weeks of intensive IoT-focused courses and live workshops with an exciting techathon finale of use case designs and Software AG credentials for participants," Kichli said.
"Reinstating its commitment to supporting sustainable growth of talent across the region, the purpose of the initiative is to empower the ecosystem and bridge the skills gap to maximise potential of this technology through experiences of transforming real-world objects into smart objects. The program will be led by global and regional Software AG IoT experts and is open to students and professionals, with the inaugural year focusing on elevating IoT capabilities of industry partners equipping them to better position themselves for future success by building and showcasing IoT use cases for industry application, followed by all categories of IoT enthusiasts. The program also aims to continue bridging the academia-industry gap – a focal area for Software AG globally," Kichli added.
The courses will focus on general and specific IoT market intelligence, trends and market growth opportunities, go-to-market strategies, sales and technical workshops. In addition, participants will receive access to Software AG's learning platform for specific certifications designed for each profile, business and technical. The certifications and badges awarded by Software AG will help students use their skills in regional and international markets.