CNME Editor Mark Forker spoke to Virgin Mobile UAE's Managing Director Rob Beswick, to find out what differentiates the Gen Z service provider from other operators, the need for seamless experiences – and its partnership with The Entertainer application.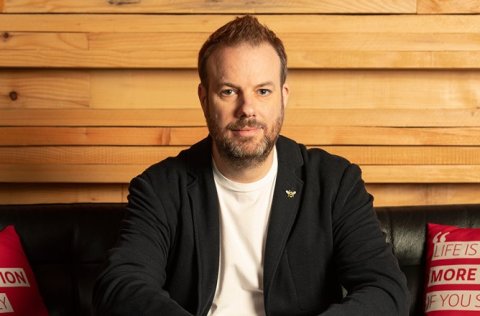 You were promoted to the role of Managing Director at Virgin Mobile UAE in June 2020. Over the last 3 years, Virgin Mobile has solidified its position as the 'go-to' brand for Gen Z. What is it about the services you provide that differentiates you from other service providers?
Virgin Mobile UAE believes in a digital-first strategy. By focusing our teams on being digital it provides the right focus, and ensures that we create a platform to simplify and improve the customer experience
We knew that this was the space in the market that needed filling for customers who want simplicity and demand a great product experience.
We constantly work hard to make the mobile experience better. The customer-first approach is our North Star and the team is always looking for solutions that can solve mobile customers' pain points, deliver above their needs and build loyalty.
We have built an operating and business model that is truly digital and this is a key competitive advantage for us. It is designed to meet our customers evolving needs with incremental and regular improvements through our agile product development capabilities.
The model allows us to consistently deliver new features and products to our customers, all of which can be easily accessed through the app. This keeps it relevant, fresh and innovative for our young at heart and Gen Z customers and allows us to constantly iterate to meet customer needs
We view our app as the product as it's the control that allows the customer to fulfil all their telecommunication needs seamlessly on their phone.
This digital-first experience has become a core differentiator for us in the market.
We were the first telco brand in the market to offer a 100% app-mandatory experience.
You can choose a plan online and get your SIM card delivered to you within 60 minutes, you can port your number seamlessly, boost your minutes or data, pause your plan when you travel and upgrade or downgrade your plan based on what you need, this flexibility is key and digital is the platform that provides it.
We were also the first telco brand  to introduce services and features that are now considered industry standards, like our subscription-based model where you can choose a monthly plan or opt for an annual plan pay upfront and save 50% on your mobile bill.
This is all based on valuable insights that our customers have given us, which shows that our tech savvy customers need simplicity, flexibility, value, and extraordinary experiences.
This approach to make mobile better has allowed us to capture not just the Gen Z but also customer segments who are looking for something better from their provider – the early adopters, young at heart and the tech-savvy.
We know that the population in the UAE is shifting dramatically to a much younger, tech-savvy demographic. How has Virgin Mobile UAE been able to adapt and evolve their operations and services to meet the evolving expectations of their customers in terms of their internet needs?
Given the strong digital hub that the UAE has developed and continues to invest in, the new, younger, tech-savy population of the country is in the right place at the right time.
We now live in an era where most people can work remotely and from anywhere.
Connectivity drives this remote culture, and ubiquitous 24/7 connectivity to the internet is paramount to facilitate the needs of these digital nomads. But customers need flexibility all the time, as well.
For example, some months, they may need more data because they are mobile and are working in different places, while other months, they may not need as much because they are at home and on Wi-Fi.
Or people travelling may need to pause their plan because of a spontaneous trip.  With this remote but fully connected lifestyle, the traditional long-term contract and large bundle plans may not be the best option for them.
This is where we take the feedback of customers: they want more flexible plans, and they want to get exactly what they're signing up for.
Our solution is to offer a simple digital platform that puts them in control, providing flexible plans that allows them to select and pay only for what you need.
Customers are increasingly becoming more socially conscious about their carbon footprint and calculating their impact on the environment. As a company that is constantly evaluating its own impact on the planet, our app is designed with a digital carbon offsetting feature, which allows customers to contribute just AED 6 to offset their mobile plan's carbon footprint for a year.
We then match every donation to make a positive difference to the people and the planet.
The younger generation also prefer to chat digitally over calling us, so we responded accordingly.
Our customer support team is now accessible through our in-app chat available 24/7, which means that we get provide the right support around the clock.
Our digital-first business model goes hand in hand with the way we respond to the evolving market. We believe in listening to and learning from our customers. It's what drove us to be a leading digital-first business, and what motivates us to be flexible, allows us to pivot, and  drives incremental improvement – Our customers respond well to this.
We live in the experience economy, and brands are acutely aware than failure to provide a seamless digital experience could be fatal, as consumers no longer have any tolerance for bad interactions with applications. What steps and measures do you follow to ensure you deliver that seamless experience to your end-users – and how important is it to give users the autonomy to shape their own experiences with Virgin Mobile?
We are a 24/7, 365 days service provider because customers expect to be connected and have a high-quality connection all the time. A seamless digital experience is critical to our customers who want "On Demand" services.
They need and expect to be able to access their services anytime and anywhere, and it needs to blend effortlessly with their lifestyle and on their terms.
We work hard to make sure that we are always listening to our users' feedback and implement them as effectively as we can. The Research Lab in our app is how we allow them to offer feedback so that we can keep our product up-to-date and upgrade it based on their preferences.
These insights also allow us to come up with attractive offers and an even better in-app user experience. We don't always get it right, but we are confident that we are doing our best to make sure that we get it right 9 out of 10 times.
We A-B test new features and this lets the customer decide how the experience is best delivered. This focus on collecting data points from real life rapid cycle testing means that our product team are able to shape the user experience based on what's really working and this differentiates and improves the digital experience on an ongoing basis.
A good example is when we noticed that some of our customers were buying data boosters more than once a month. We were able to identify this and recommend a more affordable and efficient monthly data plan to them instead – one where they don't have to continuously buy added data boosters and therefore save money.
These small changes and recommendations to make their life better, simpler and give value back are a fundamental part of our digital experience, and its made possible by continuously listening to our customers.
It's great to be in a country that welcomes innovation and technology with open arms. The UAE's leadership and strong regulatory environment has been a inspiration in our pursuit to create a seamless digital experience for users.
We remain committed to supporting the UAE's ambition to becoming a more digitalized nation.
National initiatives like the UAE Pass are being integrated into our services to reinforce the fully digital experience of Virgin Mobile as well as the UAE.
These initiatives prove that innovation in the public and private sector will continue to thrive under its visionary leadership.
Along with the rapid development of the UAE and technology, we too are paving the way as we go.
We work closely with our partners and regulatory bodies to bring about meaningful changes to the lives of people. In this collaborative journey within a digital-first business, we are learning all the time.
Our customers have more autonomy, which means we need to educate them so that they make informed decisions. For instance, when customers opt-in for auto-renewable plans, we tell them that it will renew automatically, and they can opt-out if needed before their plan renews.
We learned that being transparent and forthcoming with information is critical to their digital experience. It reminds them that they are in full control of their experience with us.
These learnings are ours as much as those of the sector.  We have an opportunity to define what a fully-digital business model looks like in the UAE.
Can you tell us a little bit more about the partnership between Virgin Mobile UAE and The Entertainer – and how significant is that collaboration?
This is a partnership that we're very proud to kick off this year. When customers select a yearly plan of 7 GB+ from Virgin Mobile UAE, they get a free one-year subscription to tailored ENTERTAINER offers.
They can access this right from the Virgin Mobile app so the experience is seamless.
The ENTERTAINER opens exciting adventures and hidden gems in the UAE, and it's exactly what our audience wants whether they're new to the country or have been a while.
In line with our goal to provide extraordinary experiences and always meet and exceed customer needs, we want to make sure we also contribute to their holistic life experiences, not just mobile.
We are constantly looking for ways to expand our offerings and create better value for our customers. So watch this space.
What are your primary goals and objectives for Virgin Mobile UAE for the remainder of 2023, and looking ahead to 2024?
2023 has been a very strong year for us so far, and I have my team to thank for that.
In the remainder of 2023 and looking ahead to the next year, we want to focus on doubling down on bringing more to our value and products to our customers.
Our focus on simplicity, flexibility, and great value will always drive us and and will continue to work hard to elevate this with new benefits, features and services.
We will remain focused on digital innovation. We want to continue bringing industry firsts and leverage technology to offer the best customer experience possible. This is not just about what we build but also making sure that we continue to improve our product and services regularly.
Lastly, we want to make sure that we continue to provide an extraordinary experience to our customers, our community, as well as our internal team.
Richard Branson's philosophy of "Changing Business for Good" will always guide us, and we do this by supporting sustainable causes and investing in grassroot organizations. This helps us create extraordinary experiences to our surrounding community, while contributing to their overall wellbeing and the environment.