Building on its legacy as one of the pioneers in the flash memory business, Toshiba Memory has officially launched its new name brand Kioxia. Santosh Varghese, vice president, Toshiba Gulf, discusses the vision behind the rebrand and shares future innovations, plans and strategies for the region.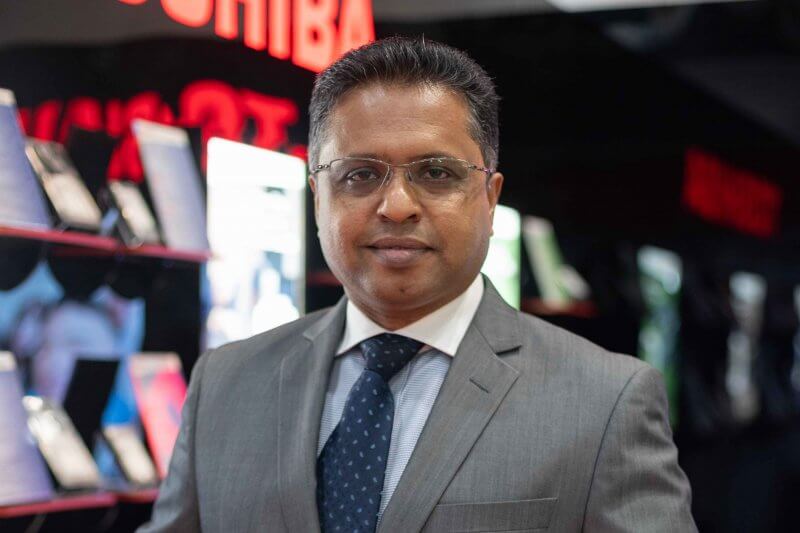 Over the last few decades, mobile technology has spread rapidly around the globe. Today, it is estimated that more than 5 billion people have mobile devices, and over half of these are smartphones. In the UAE alone, more than 92 percent of its 9.83 million population are mobile users, making it one of the countries with the highest smartphone penetration in the world.
The surge in smartphone usage across the globe has led consumer data to increase rapidly. This, in turn, has amplified the utilisation of external storage devices.
Consumer data storage devices are of various types, the market is categorised into optical disks, solid-state drive, hard disk drive, USB flash drive, and memory card. All of which are deemed essential today as individuals and organisations continue to generate huge volumes of data.
"A decade ago, many viewed storage devices as a luxury for only the most tech-savvy individuals," says Santosh Varghese, vice president, Toshiba Gulf. "Today, as mobile devices become smarter and pack more power, it is considered as a necessity."
"Kioxia is a combination of the Japanese word kioku, which means memory and the Greek word axia, which means value. These two words form the foundation of our vision."
He adds, "According to the latest industry studies, over 175 zettabytes of data will be generated by 2025. We can expect the consumption of mobile devices to continue to increase and along with it, the need for storage devices and solutions to support the huge volumes of data being produced daily."
Toshiba Memory has been a staple name in the flash memory business. The company is the second-largest maker of NAND memory chips, also known as the flash memory, which is being used in mobile devices, laptops and data storage tools. The storage pioneer has driven the technological evolution of flash memory from its invention of NAND flash memory in 1987 through its introduction of the latest 3D flash memory – BiCS FLASH.
In October last year, Toshiba Memory officially changed its name brand to Kioxia Holdings Corporation (Kioxia), after the business was sold off to a consortium led by US private equity firm Bain Capital in a deal worth $18 billion earlier in the year.
"Kioxia is a combination of the Japanese word kioku, which means memory and the Greek word axia, which means value," explains Varghese. "These two words form the foundation of our vision."
According to Varghese, Kioxia will cultivate the new era of memory, defined by rapidly increasing demands for large-capacity, high-performance storage and data processing. "Our market expertise and innovative solutions position the company to grow sustainably as a leading flash memory producer for many years to come," he says.
The brand and the offerings under its umbrella were officially launched in the Middle East and Africa region during a first-of-its-kind virtual event, which was held on 10th June.
"Innovation is in our DNA," says Varghese. "Toshiba has been a pioneer in NAND flash memory. We invented the NAND flash memory in 1987. Then, in 2007, we came up with the first 3D flash memory. Today, we are developing high-density 128-layer 3D NAND flash memory chips, which can allow devices such as smartphones to have memory capacities of up to 2TB.

"Kioxia will be leveraging this strong history and expertise to cater to the ever-evolving customer demands," he adds.
Kioxia also has one of the world's largest and most advanced semiconductor fabrication facility (fab) in Japan, which is dedicated to the production of 3D flash memory.
"The demand for 3D flash memory is driven significantly by the fast-growing demand for enterprise servers, data centres and smartphones. The fab will enable us to develop new product innovations that will allow us to continue being a market leader in this space," says Varghese.
By investing in the facility, Kioxia seeks to create products that integrate the latest technologies such as artificial intelligence, Internet of Things and robotics.
"Today's memory requirements are not only centred on the storage size of devices such as flash drives, SSDs, memory cards and so on," he says. "People are looking more and more for products that are secure, X-ray- and waterproof, and have fast read/write speeds."
Shedding light on the company's market strategy for MEA, Varghese highlights that the Kioxia brand will continue to build on Toshiba Memory's success in the region.
"We will continue to operate from our Dubai headquarters, which caters to our business operations across MEA, where we cover almost 40 countries. Our business model has always been focused on in-country distribution. We have cultivated a complete ecosystem of distributors, channel partners, retailers and systems integrators as well as a strong consumer base. This has been our success story throughout for the last 25 years in MEA and we will continue this as we grow the Kioxia brand in the region," says Varghese.
Varghese notes that in the near term they will be focusing on spreading awareness about the Kioxia brand. The company will also boost its digital initiatives including launching the Kioxia smart application in July.
"Apart from its obvious benefits, we will ramp up our digital activities as part of our strategy in response to the COVID-19 restrictions," he says.
"Furthermore, in the next few months, we will be launching numerous brand-building activities. Toshiba Memory was a very is a well-known name in the market, so instilling the Kioxia brand to partners and consumers will take significant time and efforts. Therefore, we need to strongly communicate that Kioxia will bring the same innovations, expertise, distribution model, product quality, reliability and more."