In this month's edition of Women in Tech, CNME Editor Mark Forker spoke to Clare Holburn-Archer, Chief Marketing Officer at CAFU, to learn more about how she established herself as one of the most influential communications and marketing professionals in the Middle East region.
You've enjoyed a decorated and distinguished career here in the Middle East. Can you tell us about your journey with Emirates and the different positions you held during your decade at the company?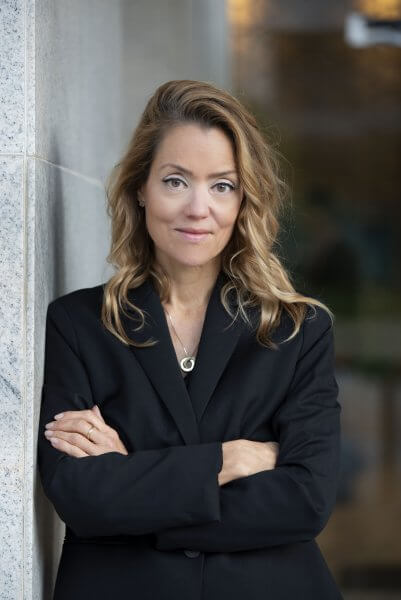 I joined Emirates Group's Corporate Communications department in 2001. At that time, I was part of four people that made up the 'digital team'. To put this into perspective, when I left Emirates almost 15 years later, we had grown the team to over 70 people. Nowadays this might seem completely normal, but then, this was a large team to have.
The expansion of our team was driven by the need to rapidly grow direct sales through Emirates.com which meant that when I left the team, we managed 136 websites in 12 languages as well as digital communication globally.
My role covered all Emirates Groups brands digital footprint and that included its various business in addition to Emirates Airline which included Emirates SkyCargo, Dnata and Emirates Holidays.
The team was incredibly strong. We built in house content capabilities with native speakers in all languages and developed specialist skill sets within our team to manage each channel, so for instance, we had specialists within the performance marketing team, (looking after SEO, SEM, E-mail) where others were responsible for digital within specific markets.
We also had an analytics team who looked at our data and ensured each channel was optimised. The result was that over the years we developed award winning brand campaigns and won Gold, Silver and Bronze in various categories at the Cannes Lions Festival, which was made possible only by our close knit team that worked hand-in-hand with adjacent departments from Emirates Commercial, eCommerce, IT, Advertising and PR.
It has been a great journey for me and having been in digital for so long really has given me a good understanding of what does and what does not work for companies.
We're seeing more women being appointed to C-level executive positions within some of the world's largest organisations. You're seen as somewhat of a trailblazer here in the Middle East. How much of a paradigm shift have you seen here in this region in terms of gender diversity since moving here?
I personally have never felt gender was an issue in applying or interviewing for roles, nor a factor in whether or not promotions have been achieved.  The companies I've been lucky enough to work for have always had robust recruitment processes which takes into account EQ, IQ, creativity and technical experience, over and above gender.
I have been lucky enough to work with very supportive leaders, Boutros Boutros, who is now the Divisional Senior Vice President of Corporate Communications, Marketing and Brand at Emirates Group, as well as Damien Latham, then CEO of Emaar Entertainment, both of which have been exceptionally supportive of my career.
At the same time, there have been moments in my career that have been challenging. As the only woman in a boardroom, it can happen to you that if you disagree with a colleague that this is been misread as you being 'emotional' which, I think it just made me learn to develop a thick skin and to choose my 'battles' wisely.
There have been great strides made in terms of championing women into C-level positions across the Middle East. However, do you feel businesses and organisations still need to do more in terms of bridging that gender division that still exists in the region?
I think what is interesting to see at the moment is that the COVID-19 outbreak, whilst causing so much distress to many, has shown that women leaders are in some cases better in managing crisis.
Maybe that's because women could be viewed as better communicators and maybe because they are naturally more emphatic. Sure, there is still room for improvement, but overall, I think we are moving into the right direction and that women bring skill sets to the boardroom that are positive for everyone.
You recently joined CAFU. How excited are you at this new role and can you outline to us what your responsibilities for the company will be?
Two things I am really passionate about is Brand Building and Technology. So naturally, I have been hugely excited about the opportunity to work for CAFU and in particular to work along-side its visionary owner and tech-entrepreneur, Rashid Al Ghurair.
As a fast-growing startup, my role is to define CAFU's brand strategy and grow it into a globally recognised brand. Similar to the rapid growth of Emirates' digital team, we are looking for a group of highly motivated communications, digital and marketing experts that support CAFU's ambitious expansion plans into neighboring and international markets.
As such, one of my main responsibilities has been to work with our business development and international expansions teams on market entry strategies. As part of that, we are creating products and campaign tool kits for a global roll-out.
From a digital perspective – my home turf so to speak – we are developing a sophisticated performance marketing platform using predictive analytics and AI capabilities.
One example of what we are working on is churn predictions and looking at how we can take predictive action, or for example a recommendation engine which would tell us which kind of customer should get which message at the optimum time. Essentially, having AI make a recommendation for when and what to communicate.
CAFU is only a 1.5-year-old company but has been hugely successful. I am very excited to see how the company will grow over the next years and to be part of that growth.