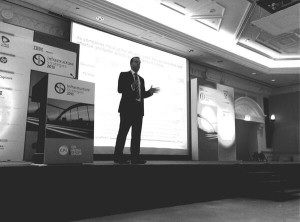 Over 100 Middle East-based IT professionals today filled the Habtoor Grand Hotel's Andalus Ballroom to bursting point, as Infrastructure Strategies 2013 kicked off the local tech event season with a bang.
The event, presented by IBM and organised by CNME, aimed to outline how Middle East organisations should be approaching their IT infrastructures in the face of emerging trends such as cloud, BYOD, Big Data and virtualisation.
To kick off the day, Hossam Darra, Chief Technologist, MEMA, HP, delivered a quick welcome note. He explained the demands that are currently being made of IT infrastructures, and how IT was now turning into a big business driver. He also made references to the emerging generation of tech-savvy customers, and how IT departments should be preparing for their arrival on the IT scene.
"AOL took nine years to get to 1 million users, Facebook took nine months, and Draw Something took nine days," he said.
Darra also talked about the importance of convergence in modern infrastructures. The way HP saw it, he said, was that enterprises needed to consolidate and converge, allowing for more efficiency and flexibility.
The next speaker was Paul Rodgers, Data Centre Service Leader, Global Technology Services, IBM MEA, who delivered the first full-length presentation of the day. His topic focused on creating a flexible design for an infrastructure, and he used IBM's recent data centre study as backing for the opinions he provided.
At one point, Rogers spoke about the differences between a highly efficient data centre and an ageing, inefficient one. He asked the room for a show of hands – how many of the 100-or-so IT pros in the room believed that they were running highly efficient data centres? Only five hands were raised.
Encouragingly, though, when the audience was asked to show how many people were running inefficient data centres, again, only four or five hands were raised. Presumably, then, the majority of visitors considered their data centres to be in the middle of the spectrum, meaning they were on the way to greater efficiency.
Rogers also spoke about the importance of aligning IT plans with business plans. "We see IT building these empires, but is that in tune to the business's plans? How do we link infrastructure growth to the business?" he asked.
Following Rogers' presentation, the day was set to be dominated by end-user speakers. The next presenter was Indranil Guha, Head of IT Infrastructure, Commercial Bank of Dubai. His topic – approaching disaster recovery in banking. While a slightly technical presentation, Guha provided plenty of food for thought, and gave sound advice to do with DR that could easily be applied to other industry verticals.
The next presentation covered Wi-Fi challenges in hospitality, and was delivered by Mahmoud Kamal, Group IT Manager, Habtoor Hotels. Giving a pragmatic, to-the-point talk, Kamal advised the audience on the importance of Wi-Fi – everyone expects free Wi-Fi wherever they are, he explained. And this presented a considerable challenge for IT.
Kamal then went about explaining how to solve these problems – he even gave advice on how to pick vendors and technology partners. "If one vendor offers the best infrastructure in the world, but there isn't local support readily available, I'd go for plan B," he said.
Following Kamal's presentation and a quick coffee break, it was down to Ibrahim Al Najjar, Senior Manager, IT Governance and Solution Delivery, DP World, to take the stage. He presented a case study entitled The Mobile Data Centre, while also explaining the importance of efficiency.
To close out the day, the event saw Joseph Aninias, Manager of IT and Telecom Services, University of Wollongong in Dubai (UOWD), deliver an entertaining and informative presentation. The thrust to his talk covered jumping ahead when it comes to virtual infrastructure, and he talked at great length about the benefits behind doing so. He then explained what UOWD had done in this sphere, before fielding questions about his slick presentation slides.