Dubai (UAE), February 2, 2021: 2CRSi, a French leading computing hardware manufacturer, announced today that it has signed an MoU (Memorandum of Understanding) with Dezzex Technologies, an InsurTech start-up, which automates damage assessment using Artificial Intelligence. The MoU between the parties states that the two companies will collaborate to draw up an innovation roadmap for governments and enterprises of the Middle East region to transition from traditional technology platforms to futuristic services.
The MoU covers the design of high-performance computing servers for Artificial intelligence services which requires low latency and high performance, first of its kind HPC devices will be deployed in the region. 2CRSi's technical solution includes a combination of advanced IT infrastructure which is cooled in an innovative way that fits the unique Dezzex requirement of high compute and storage capacity. For reasons of reliability and preference of Dezzex's clients, the entire solution will be hosted in a UAE data centre.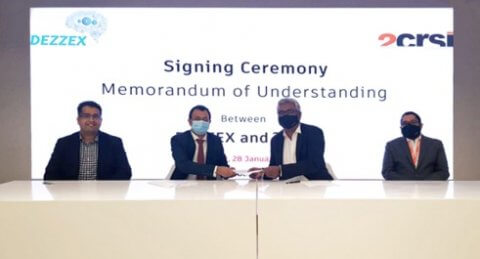 Nirmal Menon, Channel Manager of 2CRSi Middle East and Lead of the Middle East start up excellence program, said: "Our program supports AI start-up ventures to simplify and address pain points, thus freeing up resources enabling them to be more productive. We are committed to share our expertise and global reach with start-ups of this region to help them enjoy state-of-the-art infrastructure in a way never imagined".
Mohammed Shahid Khan, CEO and Co-founder of Dezzex, said "At Dezzex we are building the most advanced Artificial Intelligence system for the government and the automotive industry with key focus on automating damage assessment for motor claims, car rentals and vehicle inspections. The biggest challenge we face today is having high performance computing servers locally in the UAE with the ability of running AI services at customer sites. In addition, setting up a physical server comes at an extreme cost. To address these challenges, Dezzex and 2CRSi will bring in high performance computing services with enhanced capabilities at a minimal cost. We will also be opening our platform to other startups and government agencies as a playground for testing their AI services".
Ravi Sudarshan, Regional Manager of 2CRSi Middle East and Mohammed Shahid Khan, CEO of Dezzex Technologies, signed the MoU in AREA 2071 in Emirates Towers.