A10 Networks has unveiled the A10 Harmony Controller, which delivers multi-cloud and multi-service application delivery and security management.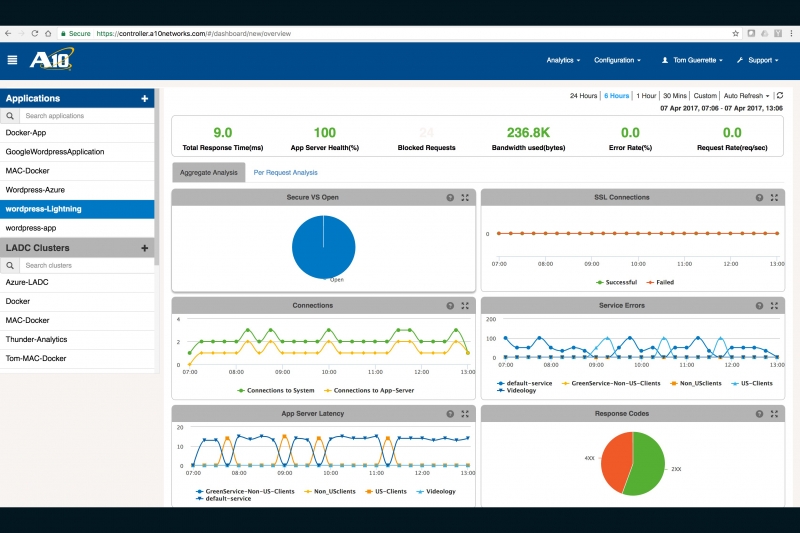 According to the company, this is a first of its kind solution in the industry that allows organisations to centrally coordinate secure application services and open-source solutions across hybrid environments. In doing so, A10 Networks has brought to life the company's ongoing vision of harmonising application delivery and security.
Last July's acquisition of Appcito was a major step toward this vision, which moved forward with the release last November of the A10 Lightning SaaS-based offering for public clouds.
The solution, according to A10 Networks, acts as a 'one-stop shop' for all secure application service management needs across multiple clouds and data centers. The new developments centre on the A10 Harmony application delivery and security platform, offering a multi-tenant, highly scalable controller architecture that incorporates real-time analytics at a per-app level and central management and orchestration of secure application services across hybrid environments – from physical data centres to public, private and hybrid clouds. This gives organisations visibility, performance and security across all of their on-premise and cloud applications, resulting in unrivaled agility and flexibility in how secure application services are managed today and in the future.
With A10 Harmony, companies get native multi-cloud support for elastic load balancing and web application firewall across public, private and hybrid clouds, including VMware-powered private clouds, Google Cloud Platform, Amazon Web Services and Microsoft Azure.
Harmony also offers advanced analytics on a per-application, per-URL and per-request basis to give you granular, centralised visibility and actionable intelligence across your entire application portfolio, including your cloud applications. The A10 Harmony Controller is available in two deployment models. The first allows organisations to use it as a SaaS offering managed by A10, making it very simple, quick and cost-effective to consume. The controller is also available as a customer-managed, scalable software solution within a customer's environment in data centers or clouds.
"A10 now offers a unique solution that bridges the traditional challenges customers have of managing multiple applications across multiple data center and cloud environments," said A10 Networks CTO Raj Jalan." We are giving customers the visibility, performance, and security across this on-premise and cloud spectrum that they demand."
"As a result, our customers have agility and flexibility as their app and business needs evolve. Our expanded A10 portfolio delivers the level of agility customers need to efficiently and effectively manage secure application services, the flexibility they need to continuously meet emerging needs, and the scalability to satisfy their performance requirements."