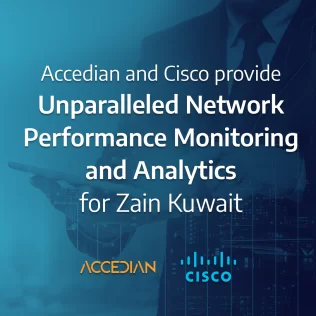 Accedian and Cisco today announced that they are helping Zain Kuwait automate its network with increased network visibility and service assurance to deliver superior B2B customer experiences.
Zain Kuwait, the leading digital service provider in the country, partnered with Accedian and Cisco to enhance visibility and insight into its network. With the integration of Accedian Skylight into Cisco's Crosswork Network Automation platform, Zain Kuwait gains a single view of its network and service performance at a per-customer granularity to help meet its B2B customers' needs proactively.
This strategic relationship between Accedian and Cisco provides Zain Kuwait with:
Unparalleled visibility into its own network: Powerful reporting and analytics available in flexible dashboards enable insight from the microsecond-level to the holistic network view, giving Zain Kuwait end-to-end network, application, and service performance visibility, data granularity, and the ability to better detect performance issues.
Service assurance "as a service": Zain Kuwait can now provide customer-specific dashboards and offer this additional visibility and service assurance "as a service" to its customers.
Improved automation: Streamlines everyday network tasks and functions to keep repetitive processes controlled and managed automatically as network service availability improves, without impacting the customer experience.
Gerhard Auer, Vice President of Sales for EMEA, Accedian, said: "By collaborating with Cisco, we're able to provide Zain Kuwait with a best-in-class solution that improves the customer experience and gives the company unparalleled network visibility, all through an automated platform that helps streamline operations and launch new, assured services more quickly and confidently. Together, we're also helping Zain Kuwait augment their service offerings to end customers by enabling them to provide the joint solution 'as a service'."
Mohamed Tantawi, Managing Director, Telcos and Service Providers, META, Cisco, said: "At Cisco, we're dedicated to helping our customers accelerate their business outcomes with network automation. Working with Accedian, we're enabling Zain Kuwait to simplify network operations with increased visibility and real-time insights, while also automating service assurance to help future-proof their networks".
Nawaf AL-Gharabally, CTO, Zain Kuwait, said: "Our goal has been to further strengthen our leadership position in the market as the first destination for digital business solutions. To do so, we were keen on leveraging our rich partnership ecosystem to proactively act on quality of experience issues and introduce more automation into our daily operations that will drastically enhance our B2B customer experience and provisioning. That requires full visibility and deep, granular insight into the full reality of what's happening in our networks. Since our B2B customers also require this type of granular visibility, we have collaborated with Cisco and Accedian to meet this need for our business customers by offering them this service through a customer portal".