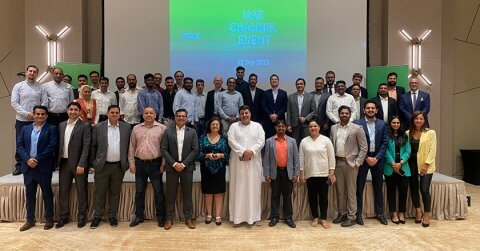 Acer expanded its support for Small and Medium Business (SMB) resellers, dealers, value added resellers (VAR) and system integrators in the country with a first-of-its kind UAE Channel event.
The event featured insights into Acer's global strategies, comprehensive product training, an overview of the benefits of its quarterly channel partner programs, and more.
The event, which took place on September 12, reaffirmed Acer's support for the dealers and resellers of the UAE channel. The event featured a morning session dedicated to commercial and education partners and an afternoon segment dedicated to consumer partners, aligning with Acer's commitment to foster a greater collaboration with their channel partners. This in turn aims to enhance the company's business growth and deliver a more satisfying and fulfilling customer experience.
Commenting on the initiative, Michele Montecchio – General Manager, Acer Middle East said: "At the heart of Acer's business model are our valued partners whose contribution is immeasurable: our success wouldn't be possible without theirs. Additionally, the channel plays a significant role in the economy, contributing to 25% of the UAE revenue market in the PC segment, according to International Data Corporation (IDC) figures for the first half of 2023. That's why we are thrilled to have hosted our UAE Channel event for this valuable segment, expanding their presence into Acer's existing programs, campaigns, and discount schemes. This strategic shift ensures a more comprehensive and inclusive approach to our market presence".
"Our unwavering dedication to our channel partners will not only help them transform potential challenges into new opportunities for business growth, but also ensure that they are suitably rewarded for performance, capabilities and collaboration within Acer's evolving and expanding portfolio. This milestone event reaffirms Acer's steadfast commitment to our valued dealers & resellers".
During the sessions partners were presented with Acer's global, regional and local strategies, guiding and advising them on how Acer has successfully kept pace with the ever-changing business models regionally and globally. The briefing also shed light on Acer's strategy for maintaining sustainable operations and elaborated on Acer's quarterly Channel Partner Program benefits, which facilitate successful collaborations with partners and help deliver market-leading solutions. This session included an array of tools and instruments designed to help resellers and dealers effectively market Acer's products and solutions to their target customer base in the UAE.
Acer's experts at the UAE Channel event showcased the brand's class-leading products and solutions, including Desktops, Notebooks, Monitors and Projectors, demonstrating how the company can enable partners to deliver superior business solutions that best fulfil the needs of their end customers. The sessions also introduced Acer's powerful Altos Computing which provides the most streamlined and cost-effective integrated solutions such as servers, workstations, thin client, networks, and storage.
The UAE Channel event concluded with hands-on demonstrations of selected Acer products that were on display throughout the day. With decades of experience in the world of computing, the event not only reaffirmed Acer's commitment to UAE channel partners but re-affirmed continuous support for partners and end customers across all levels.