Under the patronage and in the presence of His Highness Sheikh Humaid bin Rashid Al Nuaimi, Member of the Supreme Council and Ruler of Ajman, the third edition of Ajman Bank's annual Smart Life exhibition opened today at the Emirates Hospitality Centre in Ajman.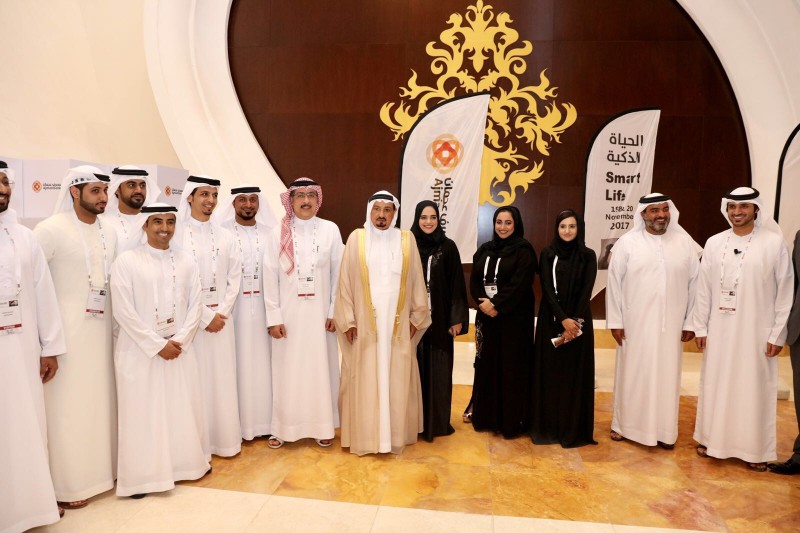 The two-day event, held in partnership with several international conglomerates – such as Microsoft, Dell EMC, SAP MENA, Oracle and Schneider, aims to provide a platform for technology decision-makers to be exposed to collections of smart living devices and cutting-edge software.
HH Sheikh Humaid bin Rashid Al Nuaimi was accompanied by HH Sheikh Ammar bin Humaid Al Nuaimi, Vice Chairman of Ajman Bank, and a number of dignitaries and senior officials, as he took a quick tour of the exhibition pavilions, while expressing his admiration for the efforts of participating companies and institutions in providing the best technological practices that supports a smart lifestyle.
The Smart Life conference itself kicks off tomorrow morning, and will feature speakers from SAP MENA, Massar Solutions, HPS, IT-Corner, Condo Protego, Dell EMC and Oracle.
Abdul Rahman Jaroudi, Ajman Bank's head of IT, will begin proceedings with his opening message at 10:30am. Speaking today in the build up to the main event, he explained how crucial it was for this event to stand-out from the large volume of technology exhibitions in the region.
"Once we took the decision to host such events back in 2014, when the first Smart Life exhibition took place, we realised that we needed to be unique in order for these events to be a success," he said. "Many of these types of conferences are led by vendors, but we wanted to give a consumer perspective on the IT issues that so much of the region are facing, by gathering together representatives from various industries – not just banking – to share experiences and insights."
In his opening speech, Jaroudi plans to highlight Ajman Bank's vision to transform to being fully digital across branches. "A major talking point now is innovation, and how to transform in this digital world we now find ourselves in," he said. "A hot topic of discussion tomorrow will also be the progress we are seeing in the journey to the cloud, particularly from a banking perspective. Finding a balance between complying with regulations and keeping up with the speed of operations that is being demanded by banks today is a big issue in this region, and that is something we hope to deliberate in depth tomorrow."
Earlier this morning, an announcement was made on the sidelines of the Smart Life exhibition, revealing that the UAE's IoT market will triple to hit $35 million by 2019. Showcasing the IoT in action, the Smart Life exhibition will showcase innovations across smart banking, government, office, hospitality, marketing, education, home, and gaming.