Al Zayani Investment Group is a diversified group with a rich heritage involved in industries such as Automotive, Manufacturing, Real Estate, and Food & Beverages. Al Zayani Group recognised the limitations in the Traditional applications limiting the organisational capability and decided to abandon the existing legacy application and embrace digital transformation with autoExpress Dealer Management System on SAP S/4 HANA. autoExpress, the cloud-based, next-generation ERP platform provided a robust foundation for Al Zayani group companies to drive real-time analytics and end-to-end digital transformation, improving organisational efficiency and user experience.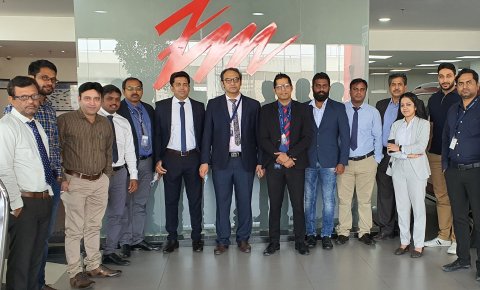 IntelliSoft's autoExpress, a DMS built on SAP's S/4HANA platform and applications, enables Automotive Dealers to reach out to prospects, engage them with market insight, maximise revenue and profits, improve customer satisfaction, streamline existing workloads, reveal optimal decisions, and capitalise on digitally transformed business models. autoExpress is pre-Configured and delivered with Best Practices which reduces the duration for adoption and therefore the cost of implementation.
The project was planned to go live in 9 months covering Human Resources & Payroll, Finance including inhouse Vehicle Financing, Marketing including Campaigns & Lead Management, Customer Relationship Management, Interaction Center & Contact Center, Procurement, Warehouse Management, Units & Parts Sales, After Service, Service Assembly Process & Maintenance, Real Estate for Property Leasing including Facility Management & Automotive Leasing. By switching to SAP S/4HANA with Industry-specific best practices delivered via autoExpress, Al Zayani are now shifting their focus from managing day-to-day operations to growth and expansion.
Our team of SAP S/4HANA consultants leveraged their deep domain knowledge and industry-leading best practices, tools, and templates to execute autoExpress implementation and going live on SAP S/4HANA. The project was delivered within the planned time & budget despite numerous constraints. Implementation was carried out without any disruption; exceptional business values were delivered. Al Zayani is considering rolling out autoExpress to the rest of their Automotive business divisions.
The go-live was smooth, thanks to the leadership of Al Zayani Group IT Manager Mr. Deepak with extensive support from management, and Mr. Satish Kumar, IntelliSoft Project Director along with the business team from Al Zayani Group and consultants from IntelliSoft. The project showcases IntelliSoft's commitment to delivering high quality projects to the satisfaction of its customers within the agreed budget and timeline.
Mr. Ravi Pincha, CEO of IntelliSoft, said "Al Zayani Group is live on autoExpress DMS running on SAP S/4HANA platform. Zayani Motors, First Motors, Bodyworks are leveraging the digital capability of the sophisticated, powerful, yet simple, and user-friendly system. autoExpress is helping expand revenue, improve productivity, enhance visibility of operations, reduce costs, and improve the customer experience".
Mr. Sathish Kumar, Project Director at IntelliSoft, said the pre-configuration aspect of autoExpress enabled quick implementation as more than 80% of the key automotive business processes were already mapped in autoExpress, "We worked closely with Al Zayani team to ensure that Al Zayani group run digital offering state of art experience to customer and employees".